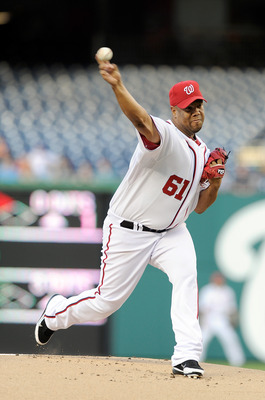 Welcome to another offseason series for The Nats Blog.  Over the next weeks and months that will take us to the start of Spring Training in March, we'll feature some week-long series recapping the 2011 Washington Nationals season.  This is the first of those, so be sure to check back in with us on a daily basis, and be sure to comment with your memories and thoughts.
Today, we start a countdown of the 5 best moments of the Nationals season with #5: the Washington Nationals vs. the eventual World Series Champion St. Louis Cardinals on June 15, 2011.  The 10-0 victory over the Cardinals on that June evening was significant in several ways that made it worthy of a spot on this elite list.
1.  The Nationals were about to go on a streak of 12 wins in 13 games to put them in position for a 17-10 record in June, which incredibly only tied their best month all season (17-10 in September).  It was the first real moment of the season, after a stunningly disappointing May without Ryan Zimmerman, where fans got a feeling they could be looking at something special.  For the first time in a long while, the Nationals were relevant in the NL Wild Card conversation almost half way through the season.
2.  Livan Hernandez gave the team a complete game shutout.  During his 16 season career, Hernandez has thrown 50 complete games and 9 complete game shutouts.  Unfortunately, Hernandez isn't going to make the rotation to start the 2011 season, and he probably won't make the team at all, but his durability and precision is something that the Nats might lack a bit going into next season if they don't sign free agent Mark Buerhle like many expect.
3.  It was the 4th out of the previous 5 games where Nationals pitchers didn't give up more than 2 runs.  The pitching took off from there, and many games until September showcased superior Nationals pitching from guys like Jordan Zimmermann and John Lannan.  Lannan was especially due for a breakout.
4.  The Nationals lineup was a Jim Riggleman special, and it featured several names that won't appear on the Nats roster next season, and other names in weird spots in the order. Jayson Werth was leading off, which was an experiment that didn't end terribly well.  Laynce Nix was the clean-up hitter and was hitting .295 at that point in the season.  Pudge Rodriguez was still the starting catcher for the Nats and hitting 7th.  Taking a page out of Tony LaRussa's handbook, Livan Hernandez was batting 8th in the pitcher's spot.  Last, but certainly not least, Michael Morse was just getting into this rhythm and blasted 2 home runs in this contest on his way to 31 homers on the season, a .303/.360/.550 slash line and a 3.4 WAR according to FanGraphs.
This game was just one of five masterful moments that gave Nats fans a reason to get excited for their team's future.  We've got 4 more coming your way over the next few days, and they only get better from here.  Stay tuned.