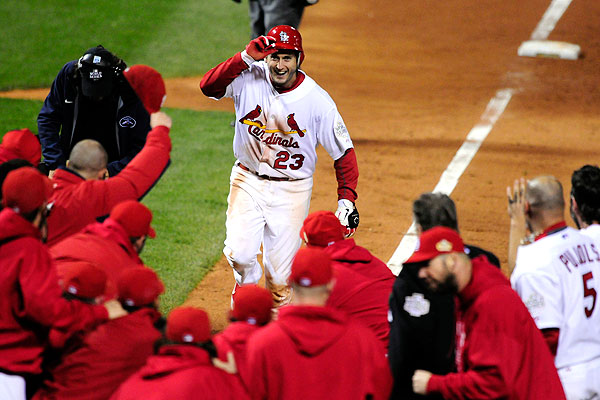 After the St. Louis Cardinals walked off with a Game 6 win in the World Series in the 11th inning last night, Tim McCarver asked what might be the perfect question to define this entire postseason, "How did this happen?"  It's a valid and fascinating question.
The start to this stellar postseason actually began on September 28, 2011, the last day of the regular season.  I wrote about that day in some detail, on a post that I called The Most Incredible Night in Baseball History.  (I may have spoken too soon, but more on that soon)  It was a night that let the Cardinals squeeze into the playoffs after being nearly 10 games behind a month before he season's end, and ultimately end up in the World Series.  On the same day, the Baltimore Orioles beat the Boston Red Sox who were eliminated from the playoffs less than 5 minutes later by the Tampa Bay Rays in walk off, extra innings fashion.  There was no way that baseball could have a better day than that.  It didn't.  It had a better month.
It started with 3 of the 4 League Division Series' going all 5 games.  Two of the teams eliminated in those rounds, the Philadelphia Phillies and New York Yankees, had the two largest payrolls in baseball in 2011.  The Championship Series' each went 6 games and were full of offensive explosions.  In 7 of the 12 LCS games, the teams combined to score more than 10 runs.
And then the World Series started.  There have been pitching duels; there have been offensive explosions; and boy, there have been comebacks.  The 3 home runs by Albert Pujols in Game 3 tied him with Babe Ruth and Reggie Jackson for most home runs in a single World Series game. 
Fast forward to Game 6.  In both the 9th and 10th innings, the Cardinals were down to their last strike of the World Series, down by 2 runs on both occasions.  Both times, you just got the feeling that the game wasn't over.  It wasn't.  The Cards came back to tie the game again and again.  And then, David Freese hit one of the most exciting home runs in postseason history: a walk-off in the 11th inning to force a Game 7 in the World Series.  The St. Louis native will forever live in postseason lore for his game tying triple in the 9th inning and his walk-off win 2 innings later.
National media, bloggers, and everyday baseball fanatics can't seem to remember a time when they were so excited about baseball.  From the run up to the postseason until now, these teams have shown us the absolute best that baseball has to offer.  This morning, I sure am exhausted for staying up to watch the end of Game 6, but not many baseball fans will ever forget Game 6 of the 2011 World Series.  I know I won't.