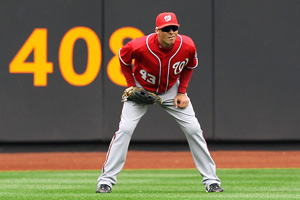 The Washington Nationals signed OF Rick Ankiel to a minor-league contract on Monday, and he will likely make the team either as a fourth outfielder or as part of a platoon in center field.  The ultimate decision for Ankiel's role may tell us exactly what the Nats expect from Bryce Harper.
The Nats have signed a bevy of veteran utility type players this offseason, including Ankiel, Mike Cameron, Mark DeRosa, and most recently, Mark Teahen.  GM Mike Rizzo has truly taken to the idea that you can't have too much depth in spring training.  The Nationals couldn't have had this problem in even the recent past.  The franchise wasn't interested in depth, they were worried about putting any competent product on the field.  Now, they know who they want the on-field talent to be, but in Harper's case, it may not happen on April 5th.
Until then, players like Rick Ankiel, who will make $1.25 million in 2012 if he's added to the 40-man roster during or after Spring Training, plus the opportunity to make $1.5 million in performance incentives, will fill the holes.  Ankiel is not a full-time solution in center field for any baseball team looking to compete, and FanGraphs.com has a fascinating article up explaining why.  In short, Ankiel is just staggeringly terrible against left-handed pitching.  However, as the article continues, the combination of Ankiel and Mike Cameron could do a fine job to rack up some innings.  Add Jayson Werth's ability to man center field in a pinch, and Roger Bernadina's above average speed, despite his below average paths to the baseball, the Nationals could have a workable solution.
Even though platoons often get a bad rap because it's usually comprised of past-their-prime or average to below-average players, this center field platoon actually provides numerous options for the Nationals in 2012.  The most important is Bryce Harper can stay in the minors to get more at-bats.  Harper had an outstanding minor league season in Low-A Hagerstown and Double-A Harrisburg, finishing with a .297/.392/.501 slash line on the season.  His numbers in Harrisburg did drop significantly, though, and he could certainly use some more at-bats against advanced breaking balls.
By keeping Harper in the minors to get additional at-bats, it also opens the corner outfield spots for Werth and Michael Morse.  When Harper is eventually recalled, it is going to create a significant log jam for Morse.  The likeliest scenario is Werth moving to center with Harper in right and Morse in left, putting the Ankiel/Cameron/Bernadina platoon back on the bench.  This is the ideal situation, and an underrated signing like Ankiel's allows the team to do that.  This gets further complicated if the Nats sign an every day center fielder, but that's certainly a problem they'd love to have.
Rick Ankiel as a platooning center fielder is certainly not the ideal situation, but it does provide an adequate stop gap with a few other signed veterans while the team's future prepares in the minor leagues.  It's a situation the Nationals have never been in before, where they have multiple solid options that could put a successful product out on the field, with depth waiting in the wings.  It's probably a feeling Nats fans should get used to over the next several years.