I had the pleasure of being in San Diego this weekend for the Nationals' series with the Padres. In the midst of Saturday night's game, though, my enjoyment of the beautiful weather, scenic ballpark and momentary Nationals' lead was shattered by a gentleman sitting behind me in a Padres jersey. This gentleman, you see, was talking smack about Bryce Harper. Now, I enjoy good smack talk, even if it's about Nationals players. But it has to be smart smack talk. This particular Padres' fan was comparing Bryce Harper to Mattt Kemp because, as he put it, they both are hitting .250 and Kemp has hit more home runs. You will be proud to hear, The Nats Blog readers, that I didn't react with anger or aggression at this mistaken Padres' fan, although I really wanted to. No, I did what any good millennial would do and tweeted about it instead.
It's taking superhuman strength to not turn around and correct the Padres fan behind me who thinks Harper is overrated

— Joseph Seib (@seibj10) June 19, 2016
Now, this anonymous Padres fan wasn't wrong in citing Harper's batting average and home run total in the sense that he obviously had those stats correct. What he missed and what got me upset is that said Padres fan didn't see or didn't understand the bigger picture. Thanks to Harper's .406 on base percentage (a higher OBP than Daniel Murphy, owner of a .367 batting average, by the way) he's still a top 30 player in all of baseball by FanGraphs' WAR. Matt Kemp, the comparable player in the eyes of everyone's favorite Padres fan, has only a .274 OBP. Combine that with terrible defense in right field and he has actually been worth negative WAR. So take that, Padres fan!
There is some bad news, though. Since the Cubs series when Joe Maddon infamously intentionally walked Bryce 173* times (*estimated), Harper has been struggling. He's hit for only a .246 batting average since that May series with an ISO of .127 — more fitting for Ben Revere than Harper. He's been tentative on pitches in the zone, swinging at fewer pitches in the strike zone than ever before. Bryce is making more soft contact than normal and hitting more ground balls as a result. Especially concerning, he's struggling to handle four seam fastballs. After hitting .322 against four seamers in 2015, Harper is struggling to a .189 batting average against the pitch. What's more, it looks like pitchers have found an area of the zone to attack Harper: up and away. Harper is very obviously a low ball hitter, so pitchers usually keep fastballs up in the zone against Bryce. Since that Cubs series, though, they have focused on the outer corner of zone with the hard stuff (graphic courtesy of BaseballSavant.com):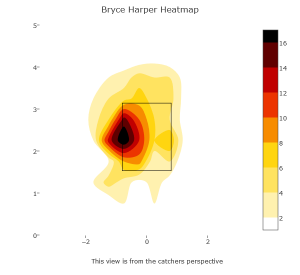 And pitchers have been successful doing so, as Harper's sub .200 batting average suggests.
Ready for the good news? There are signs to suggest that this is a temporary slump and Bryce is close to turning things around. The biggest sign is that Bryce is not chasing pitches out of the zone, pressing to get out of his slump as he has done in the past. In fact, he's swinging at noticeably fewer pitches out of the strike zone and cut down on his total swing and miss rate. As a result, his OBP is still stellar, which means he's still getting on base at close to a .400 rate in the midst of this slump. On top of that, Harper's BABIP is a career-worst .260, miles off of his career rate of .322 and his .369 BABIP last year, so he's been on the wrong end of some batted ball luck. On top of all that, Harper's struggles with fastballs up in the zone are new thing this year. Last season, although he was a better hitter against pitches down in the zone, he still hit for a solid average against fastballs up in the zone.
It doesn't seem likely that the league has found some huge hole in Harper's swing and has solved the puzzle of how to pitch to Bryce Harper. In fact, the Padres found out how attempting to attack Harper up in the zone with fastballs can backfire. Thursday night, Erik Johnson followed his scouting report and threw a fastball in the upper corner of the zone. Johnson made the pitch he wanted: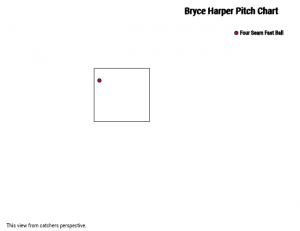 Instead of flailing away, Harper drilled it down the left field line for a home run.
Yes, Bryce has been in a slump. Yes, the league has found a short term plan of attack that has been successful against Harper. Yes, Bryce has been tentative and hasn't been able to square up the ball as consistently as fans are used to. But he's clearly gotten some bad bounces. He's not swinging and missing more. And he's adjusted to the league's new approach against him. If opposing teams are willing to keep betting that Harper will struggle against fastballs, Nats fans should be happy to be on the other end of that wager.
Tags:
Bryce Harper
,
Nationals
,
Nats
,
Washington Nationals