Baseball announcers are to instant replay what literally everyone is to Valentine's Day. Mentioning the holiday results in a passionate opinion that is inherently wrong just because it exists. Basically, it's what happens when you bring up Bryce Harper, but with questions about when you're bringing a boy home, Mom.
This year, the Nationals pitchers and catchers will be reporting on the 14th, producing anticipation of the steamiest Valentine's Day on record. In preparation, here's a rundown of some options for the perfect man on the mound or behind the plate to act as an unofficial Valentine.
Joe Ross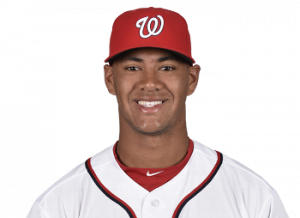 The root of Joe's success is probably blinding hitters with his charming smile. He relies heavily on two pitches — his fastball and slider are his comfort zone — but his strikeout rate in first innings is 28%. This translates to Joe being a likely homebody, but still a good time as long as he's in bed by ten. You might have to fight Michael Taylor for him based on how he's looking at Joe in this picture, but it's worth it.
Max Scherzer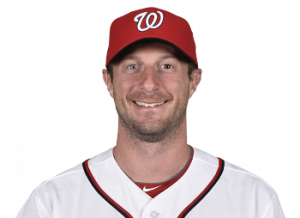 Besides Bryce Harper when umpires dare challenge his eye for the strikes, Max is the fieriest Nat of them all. It's probably safe to guess that he celebrates Valentine's Day with salsa dancing. If you want something spicier than Latin music or Max's four-seamer (which topped out at 97.9 mph in 2016), his slider (with a 27% whiff rate) is one of the best in baseball. Max has a high whiff rate thanks to his affinity for control, so maybe consider 50 Shades Darker as an alternative date. Make sure to prepare for 20 strikeouts worth of heat, only look into his blue eye, and you're good to go. Plus, if holding dogs like babies is your thing, he's the man.
Shawn Kelley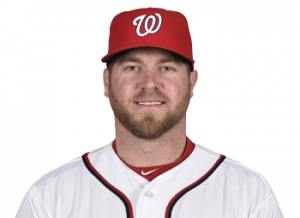 Based off absolutely no concrete evidence at all, I am of the opinion that Shawn is the nicest guy on the pitching staff, maybe only behind Tanner Roark. He also really likes dressing up as a horse? So, maybe if you're into cosplay or something? I don't know. But for real, Shawn is the likely closer for 2017, barring Mike Rizzo getting real romantic and acquiring a new closer. In 2016, Shawn had a sub-.200 BAA in high leverage situations, a 35.7% strikeout rate, and a 4.9% walk rate. Get you a man who can do all three (while waiting for the Lerners to dish out elite closer money, anyway).
S h a w n pic.twitter.com/p5OvlkZ2SH

— Mina (@maddc8) October 10, 2016
Stephen Strasburg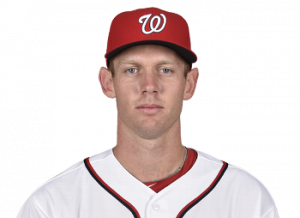 Stephen is in his seventh year with the Nationals and signed an extension last season, so clearly he's not afraid of commitment. Stras might be mostly straight-laced, but he switched things up in 2016 by throwing his slider more often, up 16.6% from 2015. His debut was an unforgettable gem, electrifying fans with a 100 MPH fastball and a bowel-locking curve, gifting the franchise with seven of its best innings ever. This means two things: 1. He makes a hell of an impression and 2. He's a killer gift giver. Plus, he proved he could maybe get away with stunt doubling for James Bond.
@sweetpearacer he's come such a long way pic.twitter.com/cA6qRQcFAx

— Mina (@maddc8) August 12, 2016
Erick Fedde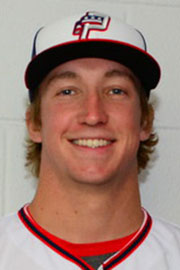 Per MLB.com, Erick is the Nationals' top pitching prospect now that his ex-roomie and best friend Lucas Giolito (may he Rest In Chicago) was traded to the White Sox. Bryce Harper once said Erick had "the best slider I've ever seen." Erick's slider is rated by MLB.com as above average, and he has a plus fastball with late life. However, his arsenal does nothing for his value like this picture of him with a mustache does. Happy Valentraining Day. This is my gift to you.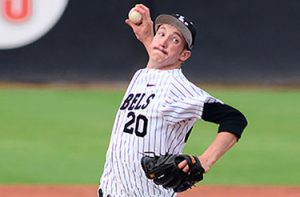 Derek Norris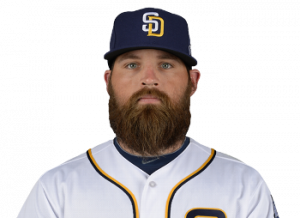 Derek is a newbie, fresh from the San Diego Padres. He probably knows Ginny Baker, and what else really matters? Per his Twitter, he has LOTS of football opinions and isn't shy about retweeting fans. Sure, Jeff Sullivan described Derek as "last year's worst hitter," but that was after a 64-point drop in batting average from 2015. Picking Derek would be kind of like a blind date, but I'm sure there's at least one blind date in recorded history that wasn't a catastrophe.
Oliver Perez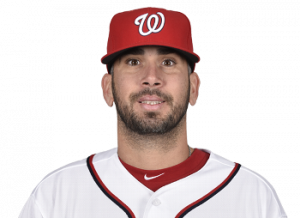 The most important things for you to know about Oliver is that he respects boundaries and he comes through in the clutch. After most every appearance, the cameras follow him demonstrating a pronounced hop over the foul line to get to the dugout. Ollie is also the artist behind the bunt that sent Danny Espinosa home to tie the game in the 15th inning against the Minnesota Twins, setting up a 16th inning win. Not to mention, this recent picture of him that has offered the evidence to prove him handsome beyond a reasonable doubt.
Bien contento Oliver Pérez por haber jugado una serie caribeña en su casa. Escribe @DavidVennMLB: https://t.co/5zCP3ijZ1i pic.twitter.com/YqgH9dtYCy

— LasMayores (@LasMayores) February 8, 2017
Sammy Solis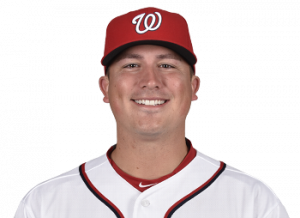 If you have a thing for dimples and construction, Sammy has got you covered. The man has an absolute hammer curve that he uses to pound the strike zone. His adorable dimples aren't half-bad either. Sammy is also an international man of mystery whose travels are well documented on TNB. Though Sammy's HR/9 was low in 2016 at 0.22, he's your guy if you want someone who will push you to look more excited about catching home run balls. Please look at this picture for inspiration.
this picture is indisputable evidence that Solis is a better OF than Heyward pic.twitter.com/aKxU4QLyaX

— Mina (@maddc8) June 14, 2016
Koda Glover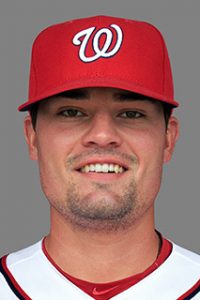 Koda made his debut last season in an inning of scoreless relief. His slider really brings out his piercing, I-could-kill-you-if-I-felt-like-it eyes. (He once favorited a tweet of mine about this, because it's true and because he has impeccable taste.) Unless you've spent an hour stalking his Instagram, you might not know that he and Kocoum from Pocahontas got matching tattoos together. But you definitely, for sure should.
Valentine's Day's biggest downfall is that it strays from celebrating Bobby Valentine's masterful disguise. Hopefully, you found the Valentine with which you can remedy this and that you were always destined to have. And to the wives and girlfriends of the members of our wonderful pitching and catching staff: please don't yell at me.
Tags:
Derek Norris
,
Erick Fedde
,
Joe Ross
,
Koda Glover
,
Max Scherzer
,
Nationals
,
Nats
,
Sammy Solis
,
Shawn Kelley
,
Stephen Strasburg
,
Valentine's Day
,
Washington Nationals