Prior to the Nationals' come-from-behind win over the White Sox on Tuesday night, Dusty Baker had to do something out of the ordinary: he had to put together a line up with a designated hitter. It's a situation the Nationals find themselves in more now than in past seasons with the new interleague scheduling. But I'm still not used to it. Seeing Jayson Werth listed as the DH got me thinking: Who has gotten the nod at DH the most in Nationals' history?
The top 10 list is a fun trip down memory lane. There are the usual suspects and then some names that make you stop and think.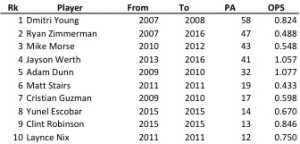 Ah, Meat Hook! Dmitri Young had two pretty decent seasons with the bat for the Nationals in 2007 and 2008. He wasn't much to write home about on defense given his rather, um, round shape, so it's not surprising to see that he leads the Nationals in DH plate appearances despite playing for only two seasons. Not for nothing, Dmitri is astoundingly less round today!
The next few names are more recent and make a lot of sense. Ryan Zimmerman has had his shoulder issues that forced him to first base, and DH was a natural fit for him when he was able to swing the bat but couldn't get the ball across the infield. Michael Morse was a mediocre defender at first base despite his past as a shortstop and outfielder, and Matt Williams and Davey Johnson probably loved having the opportunity to pencil him in at DH instead. Neither Morse nor Zimmerman excelled much as a DH, though, with OPS under .600 for the pair. Struggles aside, it gives me a reason to link to A-ha.
Werth, on the other hand, has excelled as a DH. On the top 10 list of Nats designated hitters, Werth has the second highest OPS and he looks poised to move up the top 10 list after this Sox series. Just ahead of him in OPS but just behind him in plate appearances is professional DH Adam Dunn. Big Donkey had some fun years in D.C. but never lived up to those years after leaving Washington for Chicago and Oakland.
Moving down the list gets you to old friend Matt Stairs, professional pinch hitter, and Christian Guzman, supposed shortstop. Stairs had swung out his shoes and had no real defensive position by the time he hit the Nationals, so it makes sense to see him on this list. Guzman, though, never topped 10 home runs in a single season with the Nationals. It didn't make a ton of sense to have a speedy singles hitter as the Nationals DH back in 2009 and '10, and it still doesn't now. Just goes to show you how far the franchise has come since those days.
Yunel Escobar and Clint Robinson make the list thanks to the new scheduling system that saw the Nationals playing many more games on the road at AL parks in 2015. Yunel, of course, is manning third base for the Angels these days and won't be moving up this list. Clint Robinson, though, figures to move up with some more plate appearances in 2016, perhaps even coming later in this White Sox series.
The top 10 list is rounded out by Laynce Nix. I wouldn't have guessed it, but Nix actually had 351 plate appearances for the Nationals in 2011, with 12 of those coming as a DH. He put up about an average batting line for the Nationals that year, but it would be his last productive season in the majors. Outside of the top 10 are a some names that few outside of Craig MacHenry would come up with: Daryle Ward (11 plate appearances), Wily Mo Pena (8 PA), Chad Tracy (8 PA), Matt LeCroy (6 PA), Carlos Baerga (4). Even Willie Harris got three plate appearances as a DH back in 2010. Happy that the years of light hitting Willie Harris as DH are behind the Nationals, but sad that Harris' "Mets Killer" MASN commercial has disappeared from the depths of the internet. Pour one out.
Tags:
Adam Dunn
,
Christian Guzman
,
Clint Robinson
,
Dmitri Young
,
Jayson Werth
,
Laynce Nix
,
Matt Stairs
,
Michael Morse
,
Nationals
,
Nats
,
Ryan Zimmerman
,
Washington Nationals
,
White Sox
,
Yunel Escobar