Jayson Werth's record-setting on-base streak came to an end over the weekend. He set the Nationals' team record, surpassing Ryan Zimmerman, and tied the franchise record of 46 games, set by Expo Rusty Staub. After Werth's slow start to the year, the streak served as a reminder of the impact Werth can still have on this team.
Over the course of the streak, Werth hit .264/.382/.460. He walked in 16 percent of his plate appearances, smashed 14 doubles and six home runs, and drove in 18 runs. He even tacked on three stolen bases, proving he's still got something left in his legs. Add it all up, and Werth was 26 percent better than the league average hitter over the streak, according to wRC+.
There were a couple chances for the streak to come to an end much earlier than it eventually did in Atlanta. While Werth was surprisingly consistent in getting on base early in games, there were three games where he waited until the eighth inning to get on. Back on July 7th, things didn't look good for the streak to continue. Werth stepped in to face shut down closer Jeurys Familia in the ninth inning hitless and walkless for the day. As Werth did so often during the streak, he was patient at the plate and worked a walk that extended the streak before the streak was even a thing.
Of course, to get on base in 46 straight games, it occasionally takes some lucky bounces.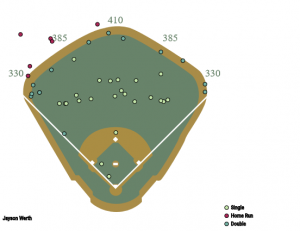 Werth had three infield singles during the streak. One was a liner that hit off Pirates pitcher Neftali Feliz. Another was a grounder up the middle he was able to leg out for a hit. And the third was a swinging bunt that has a great Statcast description: "Jayson Werth singles on a soft ground ball to catcher Tyler Flowers." Werth also registered one double on a blooper that landed in no man's land down the left field line. Sometimes, it's better to be lucky than good.
That's not to say that Werth was more lucky than good. It took him a while to find his power stroke in the midst of the streak, but when he found it opposing pitchers paid the price. Four of the homers he banged during the streak were hit over 400 feet, including this monstrous 442-foot dinger off Jorge De La Rosa in Colorado. He also had 15 balls that registered an exit velocity over 100 MPH, with two topping out at just over 112 MPH. One of those lasers was smacked off of relief ace and former Nats trade target Andrew Miller and ended up in the left field bleachers.
And sure, Werth got some meatballs that he took advantage of, but he also turned around some pitcher's pitches for base knocks.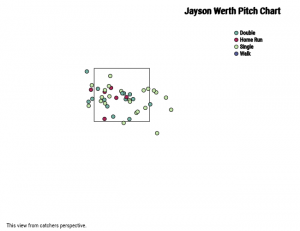 The three pitches furthest from the strike zone are those three pitches nearly in the other batter's box and yet they resulted in a line drive single to center field, a groundball single through the right side of the infield and that one infield single from above. All told, Werth registered 11 hits on pitches out of the strike zone, including that huge home run in Colorado. When Werth was going good, pitchers couldn't even pitch around him, because sometimes he would just go ahead and hit those pitches too.
It's always sad to see a streak like this one come to an end. It would have been cool to see Werth start competing with some of the other record breaking on base streaks, but I'm sure a part of him is happy to have the media attention and pressure associated with the streak off his back. The streak certainly sent a message to all those who doubted Werth's role on this team. But no one knows how to deal with those critics better than Jayson Werth himself.
Tags:
Jayson Werth
,
Nationals
,
Nats
,
Washington Nationals