With the conclusion of the World Series, the offseason is officially here. Although 2016 ended in disappointment for the Nationals, the team doesn't lose a lot heading into 2017 and figures to once again be in the mix for the 2017 World Series. Like most teams, the Nationals have some work to do around the edges, like solidifying a bullpen that loses a few arms and replacing some of the bench players. But the big moves for the Nationals will be dictated by their answer to the following four crucial questions.
#1 – What position does Trea Turner play?
Although his baby face and wiry frame may say otherwise, Trea Turner belongs in the big leagues. He hit .342/.370/.567 with 13 home runs and 33 stolen bases in only 73 games with the Nationals — numbers good enough to win the Rookie of the Year award if not for that damn Corey Seager guy. The question, then, isn't whether or not Turner sees the field in 2017 but where he sees the field. A natural shortstop, Turner has also spent significant time playing second base in the minors and roaming center field for the Nationals. He had never played center before a six-game trial by fire at Syracuse, but that was all the time he needed before supplanting the struggling Ben Revere and Michael Taylor at the major league level. While there were certainly times when his inexperience showed, Turner held his own in the outfield, as his plus-plus speed helped make up for some bad routes and misread balls. Given the offseason to work on his craft, Turner would surely continue to improve as an outfielder.
If Turner sticks in center field, that forces the team to decide on a plan at shortstop. While everyone acknowledges that Danny Espinosa is a top-flight defender, his bat is another question. He hit only .172 over the second half of the year and capped that off with a long string of strikeouts in the playoffs. There was about a month during the season, though, where Espinosa was the hottest hitter in baseball. The team believed in him enough during 2016 to force Turner to learn a new position on the fly. If they have since lost that faith, the Nationals need to find a new shortstop.
Shortstop Options
Offensive-minded shortstops are hard to come by, and the Nationals don't have an obvious heir waiting in the minor leagues. The only two true shortstops in the Nationals top 30 prospects are Carter Kieboom, a first-round pick this June, and Luis Garcia, an international signing this July. While highly touted, Kieboom and Garcia are 18 and 16, respectively. They're of no help to the big league club in 2017 (or perhaps even 2020). The team also has utilitymen Osvaldo Abreu, who posted a .674 OPS in High-A this year, and Wilmer Difo, who started slowly at Double-A but hit .283/.330/.419 from June 1st until his call-up on July 27th. But Abreu is a ways away, and Difo has yet to even register a full season above Double-A.
The free agent class at shortstop for the upcoming offseason is pretty barren. The headliners are Alexei Ramirez and Erick Aybar, who both hit worse than Espinosa in 2016 and are significant downgrades defensively to boot. If the Nationals are looking to invest a boatload of cash into a new shortstop, they wouldn't have anyone to give the money to.
As for the trade market, any team that sees themselves as a contender is going to hang on to their shortstop. While rebuilding teams would consider trading away a shortstop if the price was right, few rebuilding teams have a player who could plug into the Nationals lineup today. The ones that do have young players that are building blocks for the future, like Oakland's Marcus Semien or Milwaukee's Jonathan Villar. It will take a massive prospect package to pry guys like that from their current employers. Never count Mike Rizzo out when it comes to pulling of an unexpected trade, but it seems unlikely the Nationals' answer comes via the hot stove.
If the Nationals can't stand the thought of Espinosa playing every day that leaves one alternative: shift Turner back to shortstop and look to plug the hole in center field instead. But how would the Nationals go about plugging that hole?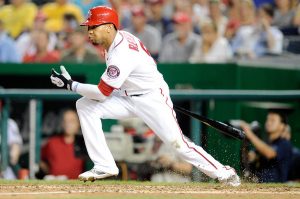 Center Field Options
The obvious answer is to turn center field back to Revere. That was plan for 2016, after all. But Revere turned in one of the worst offensive seasons in major league baseball in 2016. After spending most of his career hitting around .300, it's easy to blame Revere's early-season injury for his struggles in 2016 and expect a bounce back in 2017. Planning to give the role to Revere is making a big bet on a light-hitting journeyman, but the team will have to decide quickly whether or not to offer Revere arbitration and pay him more than $6 million.
Returning to the minors, the most intriguing option is Victor Robles, who has rocketed up prospect boards over the course of the 2016 season. But at 19 years old, he is still very young and has yet to even reach AA ball. Brian Goodwin made a case for his inclusion on the big league roster in 2017 in September, but he was a non-prospect as recently as last offseason and is 26 with one good season in the high minors. Bryce Harper has of course dabbled in center field, but given his struggles at the plate in 2016 the team is probably not comfortable imposing the wear and tear of centerfield on him for a full season.
The free agent class of centerfielders in 2017 gives the Nationals a few options. The idea with the most warm and fuzzies is Ian Desmond, whose name has already been floated by several pundits. Ignoring the politics of his exit from DC, Desmond appears like a good target for the Nationals on the surface. He hit .285/.335/.446 with 22 home runs during his season in Texas. But almost all of his offensive contributions came in the first half of the season as he managed only a .630 OPS in the second half of the season in a park very friendly to hitters. That made him one of the worst second half hitters in baseball. A homecoming for Desmond may not be a help for the Nationals.
Another recognizable name available this offseason is Carlos Gomez. An All-Star with the Brewers, he has since bounced around several teams in 2015 and 2016 and posted disappointing offensive seasons along the way. Perhaps Gomez could be enticed to join a contending team on a short deal as a way to rebuild his value —that is, if the Nationals believe Gomez can become an offensive contributor again.
The third big name that could be available is Dexter Fowler. He is set to hit free agency after declining his mutual option with the Cubs, though he will assuredly have a qualifying offer attached. Fowler has been a mainstay in centerfield and at the top of the Cubs lineup and, as a switch hitter, would help balance out the lineup. A home run in Game 7 of the World Series doesn't hurt either.
There are other, less exciting options out there, but the options take a steep drop off. The apparently ageless Coco Crisp will be available along with Jon Jay and other borderline starters that might not be an improvement on what Espinosa could offer. If the Nationals want to punt defense altogether, Yoenis Cespedes will likely be a free agent and Rizzo could make another run at the Cuban slugger. But the Mets tried to turn Cespedes into a centerfielder in 2016, and it wasn't pretty.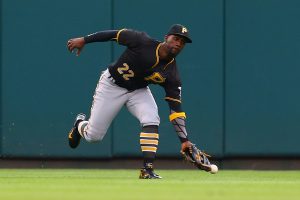 Perhaps the most fertile ground for a center fielder is the trade market. Nationals fans are already salivating over the prospect of a trade with the Pirates for Andrew McCutchen. The star has one year and a club option left on his current contract, and the small-market Pirates recognize that they won't have the financial clout to re-sign him. Rather than let McCutchen walk in free agency, the Pirates could look to flip him for a package of prospects this offseason. While McCutchen has killed the Nationals, he had a rough year at the plate in 2016. But he was one of the best hitters in baseball as recently as 2015, so the Nationals would have to hope for a bounce back with the bat. Additionally, McCutchen is not a great defensive centerfielder and hasn't been for several seasons.
But even if the Nationals decide the injury risk and defensive shortcomings don't scare them off, the Pirates are not necessarily in a position where they have to trade him. Pittsburgh was on the cusp of a Wild Card berth in 2016 and will return most of the team for 2017. Trading away their star centerfielder could mean throwing in the towel on the 2017 season, and the front office may not be ready to start down that path before the season even starts.
The Nationals, of course, also had discussions with the Rockies about Charlie Blackmon during the lead up to the 2016 trade deadline, so perhaps a deal could be worked out in the offseason. If defense isn't a concern, the Rockies right fielder Carlos Gonzalez was also rumored to be available at the trade deadline. Colorado is in a similar spot as the Pirates, though, where they could be a playoff contending team in 2017 if things break their way, but that would only be the case if they keep their valuable duo of Blackmon and Gonzalez.
#2 – Who is the Closer?
The mid-season trade for Mark Melancon solidified the Nationals' bullpen. He was solid for the Nationals down the stretch and in the postseason but is now a free agent. The Nationals are reportedly going hard to try and re-sign the former Pirate, but Melancon figures to be one of the best relievers on the open market, so it's going to take some serious cash to get him back in a curly W.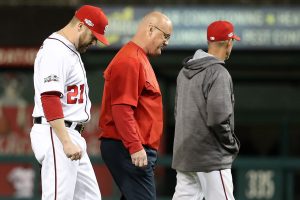 Internal Options
If the Nationals can't reel Melancon back into the fold, they are actually in good shape to find his replacement within the organization. Shawn Kelley already locked down a few saves in 2016 and was lights out for nearly the entire season. But he did leave the Nationals' final game with numbness in his fingers and given his long history, including two Tommy John surgeries, injuries will always be a concern. Blake Treinen also had a huge 2016, bouncing back from his struggles in previous years. He even figured out how to be effective against left handed hitters! His upper-90s sinker certainly looks like the go to pitch of a shutdown closer. Finally, the Nationals could hand the closer role over to Koda Glover. He's certainly raw but the Nationals had enough confidence in him to give him a taste of the big leagues in 2016 after starting the year in High-A. While he wasn't always effective, it wasn't hard to see that he has the stuff to be a closer someday.
Free Agent Targets
The closer market in the upcoming offseason starts with Aroldis Chapman. While the domestic violence charges will still hang over him wherever he goes, MLB teams have decided, right or wrong, that he is still worth top dollar on the relief pitcher market. The Nationals have long been rumored to be interested in Chapman, so it wouldn't be a surprise to see the fireballing lefty and the Nats linked in the hot stove rumor mill. Closely behind Chapman on the free agent market is Kenley Jansen. Nationals' fans saw firsthand how effective Jansen is, and he has proven in the playoffs that he can even go multiple innings in an Andrew Miller-esque fireman role. Of course, Chapman, Jansen and Melancon are the cream of the crop when it comes to free agent relief pitchers and in order to sign any of the three, a team is going to have to pay up. If the Nationals lose out on those three and are stuck shopping in the bargain bin, Drew Storen is available and looking for work!
Trade Targets
The new obsession in baseball is relief pitching and top relief pitchers are demanding more money in free agency and bigger and bigger returns on the trade market. The teams who acquired top-of-the-line relief pitching via trade recently (Chapman, Miller, Ken Giles to name a few) had to send big prospect packages in return. It's hard to see the Nationals parting with important pieces of their farm system for a closer, given their other options internally and on the free agent market.
#3 – How healthy will Strasburg be in 2017?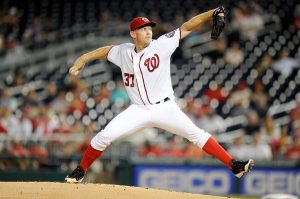 Stephen Strasburg appears to be progressing well after his injury scare at the end of the 2016 season. He was throwing bullpens during the Nationals' playoff run and, according to his agent, is ready to start his usual throwing program this offseason. Of course, this season's scare was just another in a long line of injury scares with Strasburg, and the team will have to decide how much faith they can place in Strasburg pitching a full 2017 season. His health also has a ripple effect on the makeup of the rest of the rotation.
The Nationals picked up Gio Gonzalez's option, but his future with the team remains murky. A popular figure in DC over the last several years, Gio's 2016 season was a struggle. His loss of velocity on his fastball certainly suggests that it was more than just a down year and instead rather a sign of things to come. There is likely a spot in the rotation for Gio, especially if Strasburg can't be fully counted on, but he is also a prime trade candidate. The Nationals have a wealth of starting pitching depth and in such a barren free agent market for starters, Gio could fetch a high price.
Lucas Giolito had a very up and down year in the big leagues, but the prospect shine is yet to wear off and he still ranks as one of the top prospects in all of baseball. Not every player can hit the majors at a sprint, and the Nationals certainly believe that Giolito's struggles in 2016 will pay dividends down the road. But if Giolito isn't ready for a full time rotation spot in 2017, Reynaldo Lopez might be. Although his MLB numbers are very similar to Giolito's on the year, Lopez didn't struggle with command the way Giolito did. On top of that, Lopez lights up the radar gun in a way that some people expected Giolito to. Finally, don't forget about AJ Cole. It feels like he has been around forever, because he has, but he's still on the young side and turned in some solid performances for the big league squad in September.
Strasburg's health will play a big role in which of those pitchers sticks around for 2017 and who could be dangled as trade bait. On the other hand, the Nationals used 10 starting pitchers in 2016, so maybe there needs to be room for everyone.
#4 – Who is catching?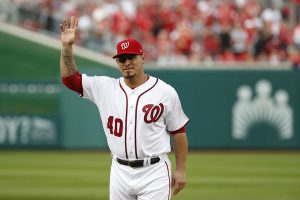 With Wilson Ramos rehabbing from his second ACL tear, it seems sadly obvious that his days in DC are over. He won't be cleared for baseball activity until sometime next summer, but it seems doubtful that his reconstructed knee can withstand the stress of catching every day. The Buffalo appears destined for the American League, where he can save his knees by serving as a designated hitter.
That leaves the Nationals without many options. Jose Lobaton has proven over several season that he is best suited as a backup catcher. He contributes a lot defensively, both in his ability to control the run game and the value he brings as a pitch framer, but there's not much to say about his work with the bat — dramatic playoff homers notwithstanding. Pedro Severino is the exciting youngster who certainly didn't looked fazed by his time in the spotlight of the playoffs. But Severino is also limited as a player. Scouts have spent several years raving about his skills defensively but he has never been even an average player offensively at any stop in the minors. Catchers tend to develop more slowly with the bat than other players, but banking on Severino to make a Sandy Leon-style leap in 2017 is probably asking too much. On the other hand, the Nationals may not have much of a choice.
Internal Options
The only other catcher on the Nationals 40 man roster is Spencer Kieboom. While Kieboom may have an argument for the best name in baseball, he's not yet ready for the Show. He's slowly worked his way through the Nationals minor league system but topped out in AA last season, where he hit only .230. Kieboom may someday develop into a major-league catcher, but it won't be in 2017. Jakson Reetz and Tres Barrera are also in the Nationals' top 30, but neither has played above Low-A.
Free Agent Targets
The market for free agent catchers may be the slimmest of any position. Former Oriole Matt Wieters could be available if an Orioles' qualifying offer doesn't get in the way. He struggled in 2016 and while he could be a marginal upgrade offensively over the likes of Lobaton and Severino, he's also not that far removed Tommy John surgery and is a downgrade with the glove. Despite those drawbacks, Wieters will likely command a sizeable contract in 2017, and the Nationals wouldn't be his only suitor. After Wieters, the only free agent catcher of note is Nick Hundley, which tells you something about the free agent catcher class. Hundley actually had a pretty solid 2016 season after a good 2015 season. But playing at elevation in Denver can do funny things to offensive numbers, so it's hard to put too much faith in those numbers.
Trade Targets
Gone are the days of trading a Matt Capps for a Wilson Ramos. The chances of the Nationals finding a team with a catcher who would be an improvement over Lobaton/Severino AND not having to sacrifice the majority of the farm system to acquire him are slim. As always, expect Rizzo to chase down any and all options, but don't hold your breath waiting for a trade.
Tags:
AJ Cole
,
Andrew McCutchen
,
Aroldis Chapman
,
Ben Revere
,
Blake Treinen
,
Brian Goodwin
,
Bryce Harper
,
Carlos Gomez
,
Carlos Gonzalez
,
Carter Kieboom
,
Charlie Blackmon
,
Dexter Fowler
,
Gio Gonzalez
,
Jakson Reetz
,
Jose Lobaton
,
Kenley Jansen
,
Koda Glover
,
Lucas Giolito
,
Luis Garcia
,
Mark Melancon
,
Matt Wieters
,
Mike Rizzo
,
Nationals
,
Nats
,
Offseason
,
Osvaldo Abreu
,
Pedro Severino
,
Reynaldo Lopez
,
Shawn Kelley
,
Spencer Kieboom
,
Stephen Strasburg
,
Trea Turner
,
Tres Barrera
,
Victor Robles
,
Washington Nationals
,
Wilmer Difo
,
Wilson Ramos