"Joe wasn't Joe."
It seemed like a pretty classic case of manager double talk when you first looked at Dusty Baker's quote to Jamal Collier over at MLB.com That could mean a myriad of things: It could mean Joe Ross wasn't his normal effective self (Ron Howard Narrator Voice: He wasn't). It could mean Joe Ross wasn't tantalizing Nationals fans with his promise and potential (He wasn't). It could mean Joe Ross was no longer the handsomest member of the entire organization (He wa— Shut your damn mouth, that man is still beautiful).
Dusty went on to say, "His usual hard sinker wasn't sinking the last couple starts, and his usual sharp slider wasn't sliding." Which made me pause. Was this the case? I think any observer of Ross' last three starts (not to mention his Spring Training outings) can say with confidence he doesn't look like the Joe Ross that made people wonder how he was the second name in the Trea Turner trade. His fastball velo has been down, and he has been giving up a lot of hard contact.
What's caused the alarming drop in stuff effectiveness though? Most Nationals fans will remember that last July, Ross went on the disabled list (first the 15- and then the 60-day) with right shoulder inflammation. While you always worry about a pitcher's injury affecting his stuff, an injury on a pitcher Ross' age that never required any surgery doesn't automatically set off the klaxons.
The problem with Ross is that when he came back from his shoulder issue he was… different. Initially it may have been masked by the fact that he was appearing in shorter stints (never more than 4 IPs after his injury) and his velocity was still where it was in longer starts, which maybe should have been its own red flag. No, the problem wasn't that. The problem was that it seems Joe Ross had changed his mechanics when he returned from his shoulder problem.
Ross had actually changed his release point. He had lowered his arm slot: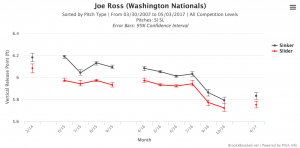 And he was also releasing the ball in a different place relative to his head: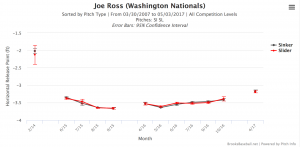 Now, like the classic internet internet message board cover-your-ass "I Am Not a Lawyer" line….. I Am Not a Major League Pitching Coach, but those are some pretty drastic changes to Ross's delivery and they coincide exactly with his lengthy DL stint.
Especially when you consider Ross' slider, which Dusty said, "wasn't sliding," you can see a massive change in the vertical movement component of that pitch: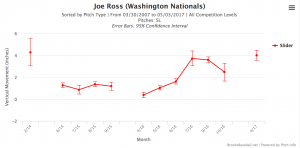 Dusty is undeniably right. Ross' slider isn't "sliding" at much. The entire shape of the pitch has changed and it has a much larger vertical break to it since his injury. For a pitcher who has always had a very noticeable platoon split issue, and struggled mightily against left hand pitching, I think maybe this change in the arm slot has given lefties an even better look at his release. Not to mention the new shape to his slider is making it harder to "back leg" it to left handed hitters and mask the fact that Joe Ross does not have a major league changeup.
Will a stint in Syracuse give him a way to either fix this or get around it? Only time and Joe Ross' shoulder will tell. For Nationals fans and front officer personnel though, they better hope he figures it out, as the other 5th starter candidates the Nationals have at Syracuse aren't very appetizing. And the way Dusty Baker is pushing the pitch counts of the rotation, help might be needed sooner than you think.
Tags:
Joe Ross
,
Nationals
,
Nats
,
Washington Nationals