There is no debating it: Bryce Harper was disappointing in 2016. It would have been nearly impossible to top Harper's historical 2015 performance, but even regression to the mean wouldn't have predicted the depth of Harper's struggles last season. That begs the question: What will Harper's 2017 season look like? Thanks to some patented The Nats Blog technology, you no longer have to wait for Opening Day to find out, you can Choose Your Own Bryce Harper 2017 AdventureTNB. If you decide that that Harper will bounce back in 2017, scroll to Section A! If you decide that Harper's 2015 was the anomaly and he's overrated, scroll to Section B! If you want to pick the middle road, head to Section C. The choice is yours; choose wisely.
Section A
Congrats, you made the right choice. Bryce Harper is actually really good! Don't listen to those haters complain about his 2016 season. Even with this struggles, he still hit .243/.373/.441, a batting line 12% above league average by wRC+, and posted 3.5 WAR. It's not earth shattering, but it's good enough to still be one of the best hitters in baseball.
Examine the 2016 season more closely, and all the underlying performance metrics for a great season are there. Harper had a 17% walk rate, twice than the league average walk rate of 8% and not that far from his 2015 walk rate of 19%. If that's not good enough, Harper also cut down on strikeouts in 2016, posting the lowest strikeout rate of his career. While some hitters mired in a slump start chasing pitches out of the zone, trying to swing their way back to effectiveness, Harper didn't let his slump affect his approach at the plate. He was his usual selective self on pitches out of the zone and was actually slightly more selective on pitches in the zone as well. He had a career high contact rate in 2016 coupled with a decreased swinging strike rate. Harper's understanding of the strike zone and ability to lay off tough pitches didn't abandon him in 2016. Those skills actually improved.
To ferret out the source of Harper's struggles, consider his season as a collection of mini seasons. Through June, Harper had yet to post a subpar offensive month. He was hitting for power, hitting for average, and getting on base constantly. Then all of a sudden, somewhere in July, the train ran off the tracks. His exit velocity on batted balls tanked, losing a full 2 MPH off his average from 2015. His soft hit rate went from 12% to 20% and his hard hit rate dropped to only 34% in 2016 after ending the 2015 season at 41%. As a result, his Batting Average on Balls in Play (BABIP) was an ugly .264, a career low for Harper and mark significantly below the league's .300 BABIP. The ability to hit the ball hard doesn't just disappear overnight. The data strongly suggests that Harper was dealing with an undisclosed injury he sustained sometime in June or July, a notion that Scott Boras seemingly confirmed. That, and not some loss of ability, is to blame for his poor 2016.
Without saying so, Harper basically said so this offseason. He said he identified the problems of 2016 and they won't be back in 2017. If Harper is truly healthy in 2017, expect his performance to match the early months of 2016 which were themselves a continuation of where he left off in 2015. His mastery of the strike zone hasn't gone anywhere and, even while playing hurt, he was still able to put a baseball into orbit every once in a while. Spring Training stats are, of course, meaningless, but this home run can't be totally meaningless. Bryce Harper is back!
The End
Section B
Congrats, you made the right choice. Only a fool would look at Bryce Harper's career and think that 2015 is his true talent level and not a huge outlier of a season. A careful examination of Harper's 2016 season will prove that the pessimists are right.
The signs of decline are all over Harper's 2016 stats. His hard hit rate dropped from 41% in 2015 to only 34% in 2016. His soft hit rate sky rocketed from 12% to 20%. The exit velocity of his batted balls dropped a full 2 MPH, he hit balls only as hard as new 5'8" teammate Adam Eaton! Harper's whole game is built around being able to consistently hit the ball hard, and he stopped hitting the ball hard in 2016.
It's not some mystery as to why this happened. It's actually very easy to identify why Harper was struggling. After feasting on fastballs in 2015, Harper hit only .200 versus four seam fastballs in 2016. That's not fluke, either. Pitchers identified a hole in Harpers swing and attacked him up in the zone. Check out this year over year comparison of Harper's ISO by area of the strike zone, courtesy of Brooks Baseball: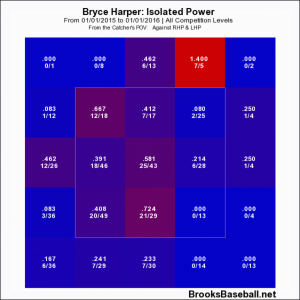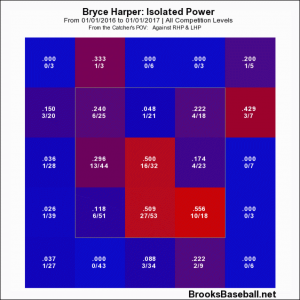 Where Harper was hitting for ISO scores of .667 and .412 on pitches out and up in 2015, he could only manage ISO of .240 and .048 in the same zones in 2016. Every hitter has a weakness. It's a question of whether pitchers are able to exploit that weakness. It certainly looks like pitchers figured out Harper and have started to exploit that.
And OK, sure, Harper still got on base in nearly 40% of his at bats, but he picked up a new found love of the stolen base. Only problem is, Harper isn't a great base stealer. He's one of the most athletically gifted players in MLB, but he was caught stealing 10 times in 2016 for a success rate of only 68%, a subpar rate for someone who attempted more than 30 steals.
Take a step back from the minutiae and compare Harper's career on a season-by-season basis. By nearly any measurement, Harper's 2015 stands out from the pack. 2016 was a step back from 2015, obviously, but it's not out of line with Harper's seasons before 2015. Harper is a fine player, but he's not Mike Trout or Manny Machado. The Nationals can't count on him to make up for the loss of Wilson Ramos, and the lineup may actually be worse in 2017 than it was in 2016 as a result.
The End
Section C
Congrats, you ignored the option to pick an extreme and now find yourself in the middle. For all the reasons noted above, Harper's 2016 was likely marred by an undisclosed injury. At the same time, 2015 was clearly an outlier season — after all, it was the best season for someone that young since Ted Williams.
When Harper was healthy, he performed, like his monster month of May in 2016. His decline after that — the loss of velocity, the loss of ability to hit balls up in the zone, the precipitous drop in hard hit balls — are very easily explained by that mysterious injury he may or may not have sustained. Then again, health has always been an issue with Harper, so it's probably not wise to expect him to stay healthy over a full season, and 2015 may actually be the outlier in that regard.
As it is with most things, the answer likely falls somewhere in the middle. Harper won't repeat 2015 but, if he can stay healthy, he will easily surpass his 2016 results. Any sort of bounce back from Harper will be a major boost to the Nationals lineup. Hitting behind a new top of the order consisting of (in no particular order) Trea Turner, Adam Eaton, Daniel Murphy, and/or Jayson Werth almost guarantees someone on base in front of Bryce. The addition of Eaton and a full season of Turner means Harper doesn't have to make up for the loss of Ramos all on his own. Harper's talents at the plate were diminished in 2016, but the core skills remained. It's OK to enjoy his Spring Training home run and imagine him doing that in games that actually matter again, because it's a good chance he will.
The End
Tags:
2017 player previews
,
Bryce Harper
,
Nationals
,
Nats
,
Washington Nationals