Thanks to some quirks in the early season schedule, Joe Ross finally takes the bump for the Nationals in 2017 today. Ross hopes to build on the positives from 2016, while avoiding the injuries that cut his previous season short. As the youngest member of the Nationals' starting rotation, there are plenty of positive signs for Cool Joe Ross but some causes for concern as well heading into 2017.
At this point in his career, Ross is essentially a two pitch pitcher. It helps that both pitches, a sinker and a slider, are knockout pitches, as his 3.43 ERA in 2016 evidences. His sinker sits in the mid-90s and forces a ton of groundballs with its hard, biting action. Ross' slider is still his best pitch, though. He threw the slider more often in 2017, hitting nearly 40% usage. With two pitches that move so much, Ross generates a below average contract rate and induces a lot of swings at pitches outside of the strike zone, always a recipe for success.
In 2016, Ross started featuring his changeup more often, using his third pitch nearly 10% of the time. In a vacuum, it's a terrible pitch. The best changeups move like a fastball, but come in 10+ MPH slower than the fastball, or move in a totally different direction than the fastball. Ross' changeup does neither. In 2017, he threw the pitch only 5 MPH slower than his fastball with nearly identical movement to his fastball. Despite the poor specs to the pitch, Ross actually got good results with his changeup, better than his fastball in many respects. The key to Ross' improvement with the pitch? Location, location, location.
In 2015, Ross couldn't keep his changeup down in the zone, and usually paid for the price for it: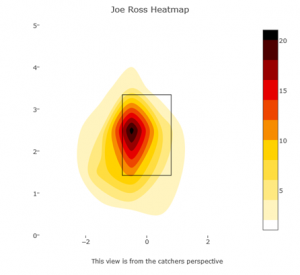 Compare that to the location of Ross' changeup in 2016 below. Instead of living in the middle of the zone, Ross was able to throw the changeup down and away from left handed hitters, the ideal location for the pitch.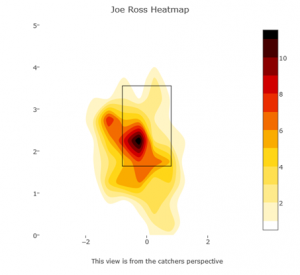 If Ross really wants to take the next step in his career, he will have to improve in two areas, the first being health/stamina. Given Ross' track record, it's very hard to determine where Ross' struggles with stamina stop and his health issues begin. In individual games, Ross loses velocity starting as early as the second inning. It impacts his performance in that game: the first time through a line up Ross allows only a .248 wOBA but a .371 wOBA the second time through the lineup. It also taxes the bullpen; Ross has only thrown 44 innings in his career getting through the opposing lineup the third time.
Ross is still a young pitcher building up arm strength, so perhaps his velocity loss mid game is just a sign of fatigue. Except in 2016, Ross also lost effectiveness as the season wore on. In April, he allowed only a .238 wOBA. In May, .308 wOBA. By June, a .323 wOBA, with his velocity decreasing along with his results. Of course, Ross hit the DL with shoulder trouble after those poor results in June. Was the shoulder injury the cause of the decline or did the fatigue of throwing so many big league innings lead to both the poor results and the shoulder injury? Ross' performance in 2017 may shed some light on that question.
The second step for Joe Ross is to get better facing left handed hitters. In every possibly metric, Ross is significantly worse when facing left handed batters: strikeout rate, walk rate, WHIP, wOBA, take your pick. Interestingly, Ross' slider is still a very effective pitch against opposite handed hitters. His fastball is the real culprit. This where the changeup becomes so important. Ross uses his change almost solely against lefties, throwing only 23 to right handers in all of 2016. Ross will need that changeup to be an effective starter long term. Otherwise, opposing teams will load the lineup with left handed hitters and turn Ross into a below-average starter.
For Joe Ross and the Nationals, 2017 could be a turning point. Ross will have the chance to prove he can stay healthy and finally pitch a full season. Hopefully, his changeup continues to improve, or at the very least he continues to locate the pitch well. In doing so, Ross may be able to solve his struggles against left handers. It could go south for Ross, though, if he can't make progress in those areas. And there are some young guns nipping at his heels, waiting for their chance.
Tags:
2017 player previews
,
Joe Ross
,
Nationals
,
Nats
,
Washington Nationals