It's Sunday afternoon under a bright June sun. Bryce Harper is jogging towards the right field bullpen fence as a fly ball from Scooter Gennett sails 391feet over his head into the Nationals pen with one out in the top of the second inning.
On the mound, Tanner Roark, just a few months removed from his performance as a national baseball hero in the World Baseball Classic, is rubbing up a fresh baseball as the Reds diminutive second baseman is rounding the bases, probably wondering what went wrong. Again.
For the third straight start in June Roark had allowed at least six earned runs, and by the end of this outing, one where Roark improbably followed his horrible start by gutting out 4.2 more innings of scoreless, his ERA for the month of June would sit at a not-so-cool 8.23.
So how did Roark go from this:
to this:
Some of it is very apparent to those of you out there applying the "eye test" to Roark. He is having trouble locating his pitches, especially his sinker. Roark has made his improbable mark on MLB by utilizing a lower 90s sinker both under the hands of right handed batters and to "front hip" left handed hitters, especially with two strikes. In June, Roark has struggled to shave those corners that have kept him as one of baseball's unlikeliest top starting pitchers.
It is another pitch I'd like to turn your attention to though, a pitch Roark has only used 14% of the time, but a pitch that has been hit harder than it has been hit in his entire career. That pitch is Roark's slider.
Roark does not have a devastating, what just happened, I corkscrewed myself into the ground slider a la Max Scherzer, but combined with his usually-effective sinker and a curveball that makes hitters guess between velocity bands, his slider has been his go to secondary pitch throughout his career. One of the key elements of the success of this pitch has been Roark limiting the amount of damage done against him, particularly in the form of extra base hits.
In the two previous years that Roark was primarily a starter for the Nationals (2014 and 2016), his ISO (a stat that measures raw power, computed by taking a batter's slugging percentage minus his batting average, and showing how many extra base hits per at bat a batter has) on his slider was an absolutely paltry .083 and .039 respectively. Yet, if you look at 2017, that has climbed to a .200 ISO against his slider. If you dig even deeper into his most recent outings, in the month of June, Roark has given up a gaudy .563 ISO against his normally stingy slider.
So what has changed with the slider? From the tabular data it isn't movement (neither horizontal or vertical) or release point (neither horizontal or vertical). Instead, I humbly submit that it is location.
In April and May of 2017, Roark was doing what he normally does. That is, keeping his slider down and away to right handed hitters and throwing it towards the back foot of left handed hitters. When he does that, his slider location looks something like this from the catcher's perspective: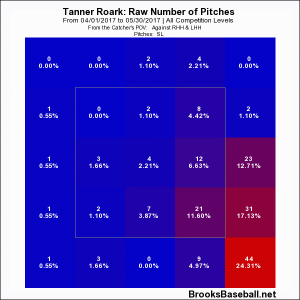 In the month of June, the story has been slightly different. Hitters are batting .313 with an eye popping .875 slugging percentage against Roark's slider. A decent percentage of this is due to location mistakes. Observe the difference in his location on his slider in the month of June: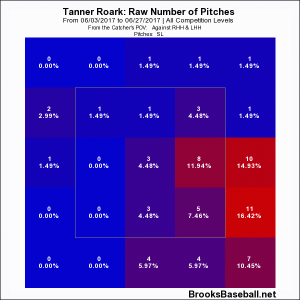 See how the slider has come up a full square and getting more of the plate? That's bad to both right-handers and left-handers. Need some visual proof? How about this:
Or maybe this (Especially check out the helpful pitch track box on the Rangers' highlight.):
Those are not locations Roark can afford to hang a slider, even more so when he is having trouble locating his bread-and-butter sinker.
As for the Nationals, right now they need to find a way to get Roark back in his lane, literally and figuratively. A large part of that comes from him getting his location dialed back in, and away from the center of the plate.
Tags:
Nationals
,
Nats
,
Tanner Roark
,
Washington Nationals