(Author's note: All stats as of 08/07/17, he has had two walks while I wrote this…..so, yeah)
"…any other man stops and talk, but the walking man walks." — James Taylor
What happens when a baseball player is one of the best in the league at a certain skill set, a career building skill set, and then suddenly he stops doing it? Perhaps the answer is that a baseball demi-god becomes mortal.
Since he reached the MLB in 2012, Bryce Harper has done many things well — hit for power, hit for average, throw out runners, disregard the need for appropriate protective headwear — but maybe above all his skill at working a walk has helped set him apart as he has matured. It is amazing in someone with as violent a swing and as aggressive a personality as Harper that he manages to allow the game, at least when he stands in the batter's box, to come to him in the way that he has so far. In the six seasons he has been a National, Harper has the ninth highest walk total in all of MLB. In his career, Harper has stepped to the plate and been issued a free pass to first base 387 times. That is a walk rate of of 14%… also the 9th best in MLB during Bryce's career.
So it's pretty clear that Bryce Harper has been not only a prolific walker, but also a sustained and consistent walker as a big leaguer, and despite his (very) up and (sometimes) down season so far this year, he has remained that consistent walker… until now. Bryce has had two big peaks during his season, and one low valley, and unfortunately it looks like he might be headed towards another one.
Harper was way high on May 2nd, stratospherically so, to the tune of a 282 wRC+ (meaning he was 282% better at the plate than your average MLB hitter) on his 15 day rolling game log. From there though he would begin a tumbling descent towards June 7th where his rolling 15 day wRC+ would sit at an embarrassing-for-a-pitcher 39. He then would begin another Everest like climb towards July 22nd, where he once again would have a peerless view over baseball with a 272 wRC+. That was the good news, the bad news is he appears to be on another fall towards something less than brilliant. See the rolling wRC+ graph below: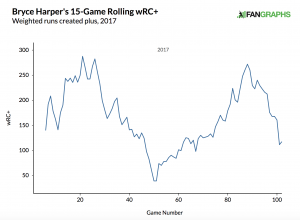 The decline since July 22nd is obvious, the real questions is: Why? After locking The Nats Blog's crack team of researchers (or… your intrepid author) inside a room with a laptop for almost 90 whole minutes, it became clear what has transpired to bring Harper crashing down to his current merely human 117 wRC+: He is no longer walking like Bryce Harper.
For the 2017 season up until July 22nd, Bryce had walked at an even-better-than-his-amazing-career-numbers 15.8% rate. What happened at this point is pretty clear: The league got scared of Bryce, as they should have been. From June 7th to July 22nd, Bryce saw 44.3% of his pitches in the strike zone, and his zone profile looked something like this: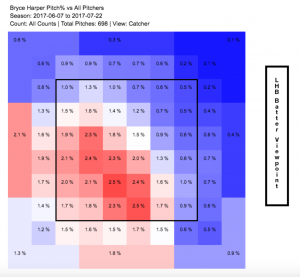 From July 22nd to August 7th Harper saw 36.6% of his pitches in the strike zone, and his zone profile looked something like… this: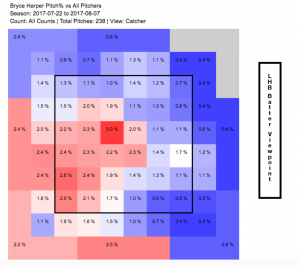 Normally this means Bryce Harper would be strolling leisurely towards first with ridiculous regularity, but for some reason this isn't the case. The plan by the pitchers facing him is pretty simple: Away, away, away, away, away. So much so that they are throwing him over 17% less strikes. They are trying to stay so far away from him they can't throw him the ball in the zone. The puzzling thing is… Harper is swinging at those balls.
From June 7th to July 22nd Harper swung at pitches outside of the strike zone at a 26.7% rate, and only swung at pitches at an overall rate of 49.6%. Since the 22nd of July though, Bryce is swinging at pitches that are balls at an alarming 44.4% clip and swinging at all pitches at an unbelievably high 60.1% rate. To give context, the highest swing rate of Bryce's career is 50.4% in 2014.
Why is Harper taking himself out of his comfort zone and swinging at pitches he clearly can't do optimal damage with? Great question. Maybe he is trying to single handedly make up for the production the Nationals have lost to the injuries of Adam Eaton, Trea Turner, and Jayson Werth. Maybe he was in a serious groove on July 22nd and felt like anything he swung at was going to go somewhere good. Maybe he just isn't seeing the ball that well in the dog days. Whatever it is, it's not the Bryce Harper fans in D.C. are used to seeing, and they'd like the other guy to come back into town.
Tags:
Bryce Harper
,
Nationals
,
Nats
,
Washington Nationals