The All Star Game has come and gone and the Nationals kick off the second half of the season with an impressive six-game lead in the NL East. There have been a lot of ups and downs getting to that six game lead. Some players have clearly gone above and beyond expectations while others have frustratingly fallen short. Let's figure out who those under/over performers are so far this Nationals season.
I'm no Stephen A. Smith, so let's leave the hot takes out of it and take a somewhat scientific approach to this. To gauge preseason expectations, I'll start with FanGraphs' preseason player projections as a baseline for expectations coming into the season. Next, I'll pull each players current WAR (Wins Above Replacement) from FanGraphs and calculate the difference between projected performance and actual performance. Thus, the chart below shows us who is out performing their preseason expectations or has let us all down with their play below expectations. Bars to the right of zero is a positive, indicating performance above expectations. Bars to the left of zero is where you don't want to be, earning less actual WAR this season than projected: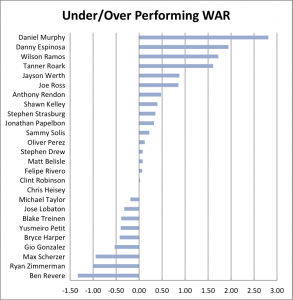 No surprise at the name at the top of the list: Daniel Murphy. He was projected to be an average player on the year by FanGraphs and accumulate just under 2.0 WAR. He's already racked up 3.70 WAR thanks to major changes to his approach and swing. If he were to quit playing baseball today, he would already have more than doubled his projected output for the whole year. He's been the best player on the Nationals this season and has an argument to be the MVP if the season ended day, even if he didn't start the All Star game.
Right behind Murphy is Danny Espinosa, who has also blown his preseason expectations out of the water. FanGraphs didn't expect great things out of Espinosa, essentially projecting him to be a replacement level player. Instead, he's taken an all power and OBP approach to solidify his hold on the starting shortstop position. The hot steak may end at some point, but Espinosa has already provided significantly more value than was expected out of him in April. Trea Turner will have to keep waiting.
Thank the LASIK surgery if you want but there is no doubting that Wilson Ramos has turned into one of the best offensive catchers in baseball this year. He's getting on base, he's hitting for power and, most importantly, he's staying healthy. It wasn't that long ago Nationals fans were clamoring for the Nats to replace Ramos. Now he's an All-Star.
Nationals starting pitchers have the second lowest ERA in all of baseball, but it takes four spots to find a starter on the over performing side of this list. That's a testament to the impressive starts to the year from the previous three position players because Tanner Roark is having himself a year. He's yet another player projected by FanGraphs to be basically league average. Instead, he's already blown his preseason projections out of the water by the All Star break with his 3.01 ERA and solidified his place in the starting rotation. Not too shabby for a guy pitching out of the bullpen at this point last season.
One last over performer to cover, and it will make his beard happy. There was plenty of hand wringing over the start to Jayson Werth's season, but he's turned it on coming into the All Star break. He's still an above-average, everyday player, even if the projection systems were calling for him to finally succumb to the aging curve.
On the other end of the graph, the underperformers shouldn't be too surprising. Leading (lagging?) the pack is poor Ben Revere. He's been a little better of late, but that recent hot hand hasn't been good enough to rescue him from the disaster that was most of the first half of the year. The big offseason acquisition expected to hold down the top of the line, Revere is hitting .224 with a .286 OBP out of the lead off spot, meaning the Nationals have started most games with an automatic out leading off. There are some reason to think Revere could turn it around. He certainly couldn't get much worse, but a .241 BABIP (Batting Average on Balls in Play) for a player with Revere's speed is due to regress back to the mean. It certainly appears that Dusty Baker is content to give him all the chances in the world to play through these struggles while leading off.
Next up on the naughty list is Ryan Zimmerman. My personal opinion is that the foot injury Zimmerman sustained last season is still nagging him, even if he's not one to talk about it publicly. Whatever the reason, a .221/.284/.402 triple-slash line out of a starting first baseman is an underperformance no matter the expectations at the start of the year. Zimmerman has always been a better second half player over the course of his career, but he's going to have turn things around in a hurry to make up for his terrible first half.
Believe it or not, Max Scherzer has actually been more disappointing than Gio Gonzalez, an order I'll bet most Nationals would have expected to be flipped. Of course, a lot of that has to do with the sky high expectations for Scherzer coming into the year. But Max was expected to be the rock at the top of the rotation. Twenty-strikeout masterpiece aside, Scherzer's struggles with the long ball have meant his 3.03 ERA isn't keeping up with the preseason projections. Gio, on the other hand, came back to earth after a couple stellar starts to begin the year. His 4.70 ERA isn't terrible — it would still rank him highly among #5 starters in the majors. But he has a couple young guns nipping at his heels in Lucas Giolito and Austin Voth and will have to perform better over the second half of the year.
The first half of the season is now behind us. The underperformers have the whole second half to turn around their seasons and the overperformers will be challenged to keep up their hot starts. Outside of identifying historical performance, this analysis can also point out where Mike Rizzo can most easily upgrade the roster. Everyone is hankering for a big name reliever like Andrew Miller, but a merely average center fielder or first baseman would pay big dividends as the guys they would be replacing are playing significantly under expectations. Keep that in mind as the baseball world shifts its attention to the trading deadline.
Tags:
Ben Revere
,
Daniel Murphy
,
Danny Espinosa
,
Gio Gonzalez
,
Jayson Werth
,
Max Scherzer
,
Nationals
,
Nats
,
Ryan Zimmerman
,
Tanner Roark
,
Washington Nationals
,
Wilson Ramos