March Madness is right around the corner, so you've probably seen the blind resume game once or twice by now. You know, the one where ESPN hides the team names and puts up a collection of stats that makes you think, "hm, maybe Northwest East State really does deserve to make the tournament over Villanova!" In the spirit of March Madness, let's play a little baseball blind resume game.

If the title of this post didn't give it away, Player Y is Anthony Rendon's 2016 season. It's a shockingly close offensive line to Player X, who is also Rendon! Player X is Rendon's 2014 season, in which he received votes for both Rookie of the Year and MVP. Although Rendon's 2014 season garnered much more hype, his 2016 was nearly as effective. His 2016 results would have been even more impressive if he didn't start so slowly last season. His month of May was nearly 40% below average by wRC+, meaning he made up a lot of ground over the rest of the season.
Health is always a question mark with Rendon given his lengthy injury history, but when healthy, Rendon is a shockingly consistent player, evidenced by the similarity in his 2014 and 2016 lines. He's probably not going to hit 40 home runs, but he's good for 20 home runs and another 40 doubles for good measure.
But Rendon is still growing as a player. Like many players in today's game who recognize they can do more damage by hitting fly balls, Rendon has started hitting the ball in the air more often. In 2016, he hit fly balls 44% of the time, the first time he has topped even 40% in his MLB career. This shift in batted ball profile works for Rendon because he has been able to maintain his rate of line drives and has cut his ground ball rate down to 36%, effectively trading ground balls for more effective fly balls.
Rendon's offensive success stems from his selectivity at the plate. He is the proud owner of an above-average walk rate and a below-average (in a good way) strikeout rate. His selectivity goes beyond simple recognition of balls and strikes as well. Sure, Rendon rarely chases pitches outside of the strike zone (23% chase rate in 2016 versus the league-average 30% rate), but he doesn't chase tough pitches in the strike zone either. The result is a miniscule swing and miss rate of 6% and a stellar contact rate on pitches in the strike zone of 85%.
Rendon has a clear preference the ball down and in (shout out to Brooks Baseball for the graphic):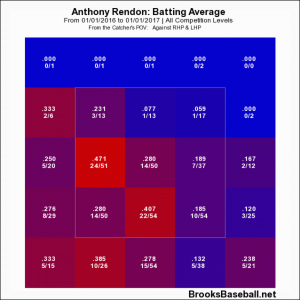 Though there are some obvious cold zones, especially up and away, but with Rendon's selective approach, it's hard for opposing pitchers to consistently hit those holes. If that pitch intended to be up and away creeps down or in a few inches, it quickly finds a hot zone. Thanks to this approach, Rendon's success comes against both left handers and right handers. If there is one real weakness for Rendon, it's the slider from right handed pitchers. Against that pitch in 2016, he hit only .175.
Rendon has impressive offensive talents, but his defense might actually be better. By Defensive Runs Saved, he rates out as the fifth-best defensive third baseman. Choose Ultimate Zone Rating instead, and he's the fourth-best third baseman. Whatever measurement you prefer, Rendon is one of the best in baseball.
While Rendon may not be the flashiest player on the diamond (his hair notwithstanding), he's one of the Nationals' most valuable players. Health will always be a concern with Rendon, although locking him in at third base should cut down on some of the wear and tear he was experiencing at second base in previous years. If he's healthy, expect a season similar to 2014 and 2016 from Rendon in 2017
Tags:
2017 player previews
,
Anthony Rendon
,
Nationals
,
Nats
,
Washington Nationals