Trea Turner might have been the most exciting story coming out of the 2016 season. Sure, Max Scherzer won a Cy Young award, but he's expected to be one of the best pitchers in baseball year in and year out. The Nationals did make the playoffs, but by coming up short in the NLDS yet again, it's not something many fans are celebrating. Turner, though, made a huge impact on the field in only 73 games in 2016 and incited a wave of enthusiasm for his upcoming 2017 season. But MLB history is full of one-year wonders, so is Turner destined for greatness in 2017 or has the bar been set too high?
Turner's 2016 performance was so impressive that it's hard to see how he could do anything but succeed in 2017. He hit .342/.370/.567, an impressive triple-slash line. Perhaps unexpectedly, he slugged 13 home runs, which means the "sneaky power" line probably needs to be retired. Power was never Turner's calling card, but speed is and so his eight triples aren't surprising at all.  On top of that, Turner was a menace on the base paths. He logged 33 stolen bases with an 85% success rate and was a bother to the pitcher anytime he reached base. Add it all up and Turner was good for 3.3 WAR, fifth-most on the 2016 Nationals in only half the number of plate appearances as the rest of the roster.
The surface stats are impressive, but surface stats can be misleading. Dig a little deeper and there are some equally impressive numbers, as well as some that should give some pause. Despite Turner's slight frame, he did hit the ball hard on a consistent basis. He had a soft hit rate of only 17% and hit a good amount of line drives and fly balls. Only two of Turner's 13 home runs were classified as "Just Enough" by ESPN's Home Run Tracker, meaning most of Turner's dingers cleared the fence with plenty of room to spare. The power wasn't a fluke: When Turner went yard he cleared the fences with room to spare.
Turner's scouting report as a minor leaguer contained plenty of platitudes, but the biggest gripe scouts had with his approach was his high level of strikeouts. When Turner debuted in the big leagues, that flaw appeared to debut as well. At one point early in his 2016 season with the big league club, Turner's strikeout rate was approaching 35%, significantly higher than the league average of 21%. To his credit, Turner steadily cut down on his strikeout rate as the season wore on (h/t Fangraphs):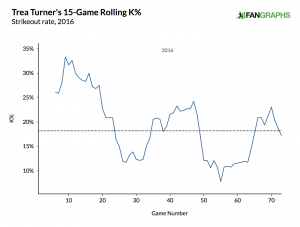 He ended the season with a below-average strikeout rate of 18%, seemingly fixing one his biggest weaknesses.
As alluded to, however, it's not all sunshine and rainbows. While Turner was able to cut down on his strikeouts, he had a paltry 4% walk rate in 2016. Turner was never a high-walk player in the minors, but 4% is the lowest rate of his professional career, across any level. Now, if Turner can continue to hit .340 with a miniscule walk rate, it's not much of an issue. If the low walk rate is actually indicative of a lack of plate discipline, though, it could be a leading indicator of future struggles.
Like most young hitters, Turner also struggled with big league breaking balls, specifically curveballs. He hit only .189 against the pitch and swung and missed nearly 40% of the time against curves. Historically, that is a weakness that can be corrected with time. Although, as anyone who remembers Willy Mo Pena can attest to, sometimes that weakness never goes away.
The biggest unknown in 2017 is how Turner will perform with the glove. He struggled with quality reads in centerfield, making up for some with his otherworldly speed and totally misplaying other balls. In 2017, he won't have to worry about routes in the outfield, as he appears locked in at shortstop. Scouts were of two minds on Turner's defense at short. Some thought he could play an average to slightly above average shortstop thanks to his speed and adequate arm strength, while others didn't think he would be able to handle it on a regular basis and was better suited to second base. The jury is obviously still out on what Turner will look like at shortstop. It's not too early to know that the infield defense will take a hit with a downgrade from Danny Espinosa at short to Turner. That's no knock on Turner, as Espinosa is one of the better defensive infielders in baseball, but Turner certainly has some shoes (glove?) to fill. Keep any eye on the BABIP allowed by Nats pitchers to see just how much of a downgrade it really is.
Luckily, the biggest question marks with Turner will quickly have answers. If his defense is truly suspect at shortstop, it won't take long for that to become obvious in the regular season. If he really does struggle with control of the strike zone, major league pitchers with a year of tape to rely on will quickly look to take advantage. If Turner does have those things under control, the MVP expectations may not be setting the bar too high.
Tags:
2017 player previews
,
Nationals
,
Nats
,
Trea Turner
,
Washington Nationals