College Gameday posters have little on the beast of a banner that was unleashed at Nats Park Opening Day. As fans made their way to the exits, protesters unfurled a large sign reading "IMPEACH TRUMP RESIST," above Captain's Cove.
BREAKING: "Impeach #Trump" banner dropped during Washington Nationals game on #OpeningDay pic.twitter.com/OnxtVfKeGg

— Alex Rubinstein (@RealAlexRubi) April 3, 2017
@DefenseBaron Nah bro, that's just today's drink special at the Captain's Cove. Period. pic.twitter.com/4VSavfK67A

— Adam Mazmanian (@thisismaz) April 3, 2017

The sentiment wasn't Nationals-approved, given the team invited President Trump to throw First Pitch Opening Day, citing refusal to break from tradition of presidential pitches. Nats fans have a history of applying the Goo-Be-Gone and unsticking to sports when the organization presents the opportunity. Nats Park rained boos fit for Drew Storen upon President George W. Bush and Vice President Dick Cheney during their respective First pitch appearances.


To Trea Turner's (possibly tongue-in-cheek) disappointment, the White House declined the Nats offer due to a scheduling conflict. Sources say he was busy not looking like this on live television.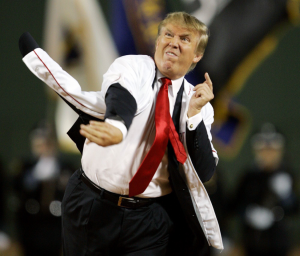 Despite throwing like an actual water buffalo, Trump says he once played baseball, which Brandon McCarthy confirmed.
@realDonaldTrump I asked coach Dobias about you. he said you preferred to play in jeans rather than baseball pants due to piss absorbency

— Brandon McCarthy (@BMcCarthy32) August 16, 2016

The call for impeachment raises a few other questions. Is claiming Stephen Strasburg would leave the Nats after the 2012 shutdown an impeachable offense? Is Stras going to have to convince 45 that his contract extension isn't fake news? Is Press Secretary Sean Spicer going to roll out his own "Impeach the Nationals" banner if the Dippin' Dots isn't up to standard? Could Nats Park accommodate enough protest signs? Also, can Trump be impeached for watching baseball like this?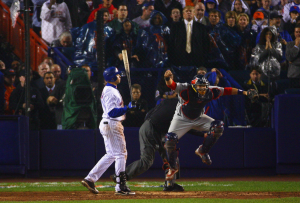 Trea has three more Opening Days that could still give him the opportunity to check out 45's mechanics — unless the Nats Park protesters get their way.
Tags:
Donald Trump
,
Nationals
,
Nats
,
Stephen Strasburg
,
Washington Nationals