The 2017 season has not been a good year for Blake Treinen. Handed the closer reigns to start the year, Treinen struggled right out of the gates en route to an 8.10 ERA on the season and a demotion to middle relief. The results for Treinen have been disappointing, to say the least. Most disappointing because he was dominant in 2016, with a 2.28 ERA. So, what has gone wrong this season?
In a word: location. Treinen seems to have lost all semblance of the command he showed in 2016. He's struggling to get ahead early in counts. He's throwing first pitch strikes in only 54% of at bats this season versus 57% in 2016. It's not just first pitches that are giving Treinen trouble. He's hitting the strike zone with only 42% of his pitches compared to 46% last season. While Treinen's walk rate is up slightly from 2016, it's not walks that are doing him in.
No, Treinen has been hit hard because he can't hit his spots. Treinen obviously relies on his physics-defying sinker, throwing it 70% of the time. In 2016, he did an excellent job of pounding the strike zone in areas that made it nearly impossible for opposing hitters to square up the pitch: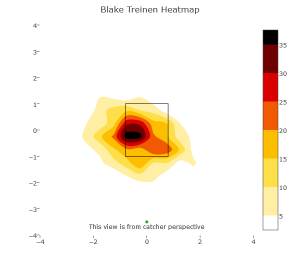 By living on the arm-side corner of the strike zone, Treinen limited hitters to a .220 batting average in 2016. As Treinen has fought to find command this season, he's been leaving pitches over the heart of zone: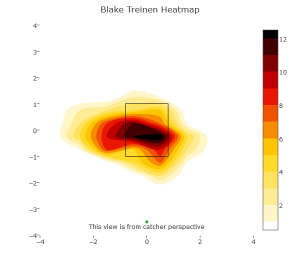 Now, Treinen's sinker is so filthy at times that he can get away with missing over the middle of the plate. Case in point, this recent pitch versus the Diamondbacks:
Blake Treinen, 97mph One-Seam Sinker movement. 😱  H/T @GRTrouble pic.twitter.com/ZbbBoBgv8L

— Rob Friedman (@PitchingNinja) May 3, 2017
Treinen gets the strikeout, but notice where Lobaton sets up (inside corner, knee high) versus where the pitch ends up (middle of the plate, belt high). He got away with the mistake in this at bat, but he hasn't gotten away with misses like this for much of the year.
Treinen may be the most frustrating pitcher in a Nationals bullpen that has been nothing but frustrating this season. He has the makings of a dominant reliever; His sinker is the closest replica of Zach Britton's dominant pitch outside of Baltimore. But unlike the Orioles shut down closer, Treinen can't consistently pound the edges of the strike zone with his go-to pitch. As filthy as Treinen's sinker looks in a vacuum, MLB hitters make their living by hitting filthy pitches that linger too far into the strike zone, which is exactly where Treinen has found himself far too often this season.
The good news for the Nationals is that Treinen isn't broken, he's just off by a couple of inches. Those inches have made a huge difference in 2017, of course. But Treinen was right on spot for the duration of the 2016 season, leaving hope that Treinen is only a minor adjustment away from returning to his 2016 form. His three up, three down outing against a tough Orioles lineup Monday night is a potential first step on that route. For the Nationals bullpen to take a step forward, Treinen is going to have to stay on target.
Tags:
Blake Treinen
,
Nationals
,
Nats
,
Washington Nationals