While Matt Albers obviously has the closer role on lockdown, the bullpen is still a big, fat question mark. Luckily for the Nationals, the answer to their bullpen struggles is already on the roster! In fact, he just got demoted to AAA. Confused? Let me explain.
Joe Ross got sent down to the minors to this week after a 7.47 ERA over his first three big league starts in 2017. It's likely that his struggles so far this season are mechanical in nature, but that doesn't mean his future is in the starting rotation. While Ross has dazzled at times as a starter in previous seasons, he's struggled to stay on the field. A combination of fatigue and injury have conspired to keep Ross out of the starting rotation. If Ross can't stay on the field as a starter, then he may be the savior this bullpen needs.
Don't get me wrong: Ross has good numbers as a big league starter, but his 105 innings pitched in 2016 were a career high. He's been shut down several times in his Nationals tenure due to injuries. Even when Ross has been healthy, stamina has clearly been a struggle for the young hurler. Though he has impressive velocity early in games, he loses a full mile per hour every time through the order (chart via Brooks Baseball).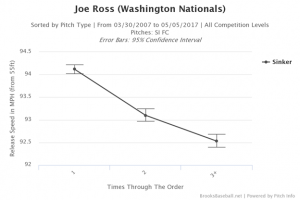 As Ross loses velocity, he loses effectiveness. The first through the batting order, Ross allows an OPS of .513, pretty dominant. The second time through, that OPS jumps to a whopping .911. Effectively, the first time through the order, opposing hitters hit worse than 2016 Alexei Ramirez. The second time through, they turn into Nelson Cruz.
Because Ross lacks a quality third pitch, he also has trouble when facing left handed hitters. He is once again dominant against right handed hitters, limiting them to an OPS of only .570. Against left handed hitters, though, that OPS jumps to .843. Ross' sinker-slider combo works when he faces same handed hitters, but the combo doesn't work as well when facing lefties.
So the Nationals can't rely on Ross to stay healthy as a starter, he goes from dominant to ineffective after only a couple of innings, and he's immensely better against right handed hitters? If that doesn't describe the perfect bullpen arm, I don't know what does. As a reliever, Ross wouldn't have to pitch as many innings over the course of the season, likely keeping him healthier than if he was starting. As a reliever, it's unlikely he would ever face an opposing lineup a second time, eliminating one of Ross' biggest areas of weakness. He also would not have to worry about saving bullets for later innings and could focus on going all out for a limited number of batters. While Ross averages 94 MPH with his fastball as a starter, he can still max out at 97 MPH and would be able to hit that more often as a reliever.
Ross' experience as a starter could also come in handy if the Nationals are willing to think outside the box with his usage as a reliever. One of the stars of the 2016 playoffs was another former starter converted to reliever, Andrew Miller. The Indians were willing to use Miller in a fireman role, coming into games when the situation dictated it regardless of inning. Sometimes Miller would close out games, sometimes he would come in at the middle of an inning and end up pitching several more innings. Miller's experience as a starter allowed the Indians to be aggressive in using him. Ross could fill this role for the Nationals, a role the current 2017 bullpen desperately needs.
Of course, the biggest question mark with this plan is who fills Ross' role in the starting rotation? Jacob Turner doesn't have a great track record, but he has impressed in a small sample size so far this year. AJ Cole allowed one run in six innings in his 2017 debut Saturday, but allowed four walks to just two strikeouts and was backed by a Herculean effort from the defense. Erick Fedde gets closer to big league ready every day. These may seem like downgrades compared to the peak of Ross' time as a starter over the last few years, but if Ross can't stay healthy and pitching, the Nationals will end up relying on these guys anyway. None of those three have had a consistent opportunity to be a starting pitcher in the big leagues and one of them could just step up to the challenge. Plus, moving Ross to the bullpen now doesn't keep the team from bumping him back to the rotation if it's really necessary.
Ross is a very enticing pitcher. He throws hard, his slider is nearly unhittable, and he's been impressive in flashes at the big league level. But he is also a limited pitcher as a starter. He doesn't have the stamina to pitch deep into games. He doesn't have a third pitch and struggles when facing opposing hitters a second time. Turning Ross into the Nationals' version of Andrew Miller would maximize Ross' skillset and eliminate many of the challenges holding him back. The 2017 Nationals desperately need bullpen help, and Joe Ross may be just what the doctor ordered.
Tags:
Joe Ross
,
Nationals
,
Nats
,
Washington Nationals