Shawn Kelley is broken.
He's lost his slider and thus, he's lost himself. It's no revelation to point out that Kelley has been terrible this season. His ERA has almost tripled — from 2.64 last year to 6.88 this year. As have his walks and home runs per 9 innings — from 1.71 to 4.72 and 1.40 to 4.24 respectively.
Hitters are just Hulking out on him. Despite is BABIP being slightly lower this year (.250 vs .258 last year), his fly ball % and hard-hit % are way up. Of balls put in play, 61.5% are fly balls — way up from 49.2% last year — and 46.2% of all balls in play are being hit hard — again way up from 32.3% last year.
And it's because he can't throw his once-devastating slider for strikes anymore. Kelley has always been a fastball/slider pitcher. Last year, when he dominated, he threw about 44% sliders vs. 56% fastballs. This year he's throwing less sliders and more fastballs (a 40/60 split) because he can't throw the slider for strikes. And thus, hitters are laying off the slider and ripping his fastballs. Here are his heat maps for his slider:
Last year:


This year:
As you can see, he's missing low. By not throwing his best pitch for strikes, he's rendered himself (and his fastball) useless.
Last year, his fastball was his best pitch because hitters were kept off-balance by the slider. His Fangraphs pitch value (per times thrown) for the fastball was almost twice as valuable as an average MLB pitch (+1.79) in 2016. This year it's two-and-a-half times worse than the average pitch (-2.54). The velocity is the same. The difference is that now hitters can sit fastball because the slider is no longer a threat.
Last year Kelley mixed the fastball throughout the strike zone:

This year, he's grooving the fastball in hitter's sweet spot: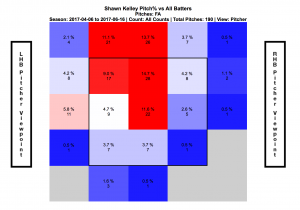 Shawn Kelley is now a one-pitch pitcher, and that pitch sucks. Jay Bruce's at-bat Friday night was the epitome of the new approach against Kelley. He spit on the sliders low and out of the zone, waited for a fastball he could handle, and drove it out of the park. Fortunately for the Nats, they had a big enough lead that it didn't matter. But it showed that Kelley isn't the pitcher he used to be.
Erick Fedde is now in AAA. It's time to call him up and let Kelley go. Kelley's in his mid-30s, has had two Tommy John surgeries, and has apparently run out of gas.
Kelley's giving up home runs like Halloween candy and it's no fluke. His slider is worthless, which means his fastball is too. Relief pitchers' careers are fleeting. Shawn Kelley has had a good run, but that run is up. The Nats need new arms in their bullpen, which means guys need to go to make room. And with -0.9 wins below replacement, Kelley should be the first.
The Nationals need to be looking guys that will help them this fall. Sadly, Shawn Kelley won't be one of them. The time has come for the team to move on.
Tags:
Nationals
,
Nats
,
Shawn Kelley
,
Washington Nationals