Five to ten years ago, talking heads in baseball may have been calling for 24-year-old phenom Trea Turner to be sent down. After all, the NC State product is hitting just .236 in the first month of the season. Forced into the leadoff spot following Adam Eaton's absence, it has been frustrating to see him unable to produce base hits. Yet there he is halfway through April, sporting a .368 OBP thanks to a 17.2% walk rate. While nowhere near a guy like Bryce Harper (27%), this is a rate on par with players like Rhys Hoskins, Aaron Judge, or Paul Goldschmidt. Essentially, we are talking about a walk rate prototypical of a slugger, not a leadoff man like Dee Gordon (3.9% career BB%), Ender Inciarte (6.7%), or Adam Eaton (8.2%).
So is this a bad thing? I would argue no, not especially since we are talking about a speed guy who provides the most value when on the bases regardless of how he arrived there. This also is not a shocking occurrence, considering scouting reports. From SB Nation's Minor League Ball in 2015: "Trea sports advanced plate discipline which allows him to maximize his hit tool . . . A 100-walk season may not be entirely out of the cards for Turner." Nats fans have consistently seen a player seemingly unwilling to walk in his first few seasons in the majors, but that may not have been the real Turner. That walk rate should decrease somewhat, but even still, 15% or so may be a reasonable rate. With that said, what about his inability to hit?
I attribute this to a couple things. First, note this heat map from 2016, his rookie year when he was hitting well over .300.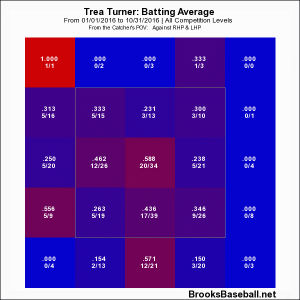 Now look at his 2018 map: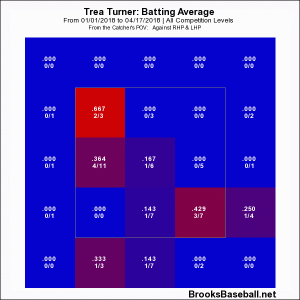 At first glance, the problem is obvious: He is hitting in the .100's on pitches down the middle, something that either will not continue or is a sign that he's just a terrible hitter. I lean towards the former.
Also worth noting is his lack of interest in swinging at high-and-away pitches, evidenced by having no at-bats finish on a pitch in the upper right quadrant and only eight on anything away-middle or middle-up. Looking at 2016, he was at his worst on those types of pitches. Consider as well a graphic from a 2016 Fangraphs article about how exciting Trea Turner is: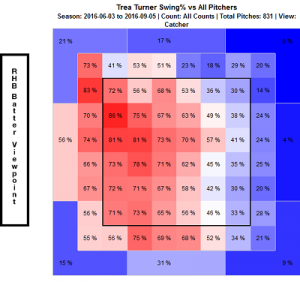 This graphic illustrates Turner's swing percentage on pitches in any given zone. During the best portion of his career, he seldom swung at the pitches he is bad at hitting and very rarely held up on pitches that were in his "turbo zone" (middle-in, middle-middle, up-in). My takeaways on this data?
In 2016, pitchers had yet to learn how to pitch to Turner, so he saw a good chunk of pitches in places he wants to hit. When he sees those pitches, he hits like a Hall of Famer.
Entering 2018, Turner probably took it upon himself to be more selective of his swings. He struggled in 2017, part of which is attributable to injuries, but I think he likely became impatient with never seeing inside pitches.
He is still being pitched outside a great deal, resulting in him laying off and walking frequently while seeing so few of "his" pitch that he has still struggled to drive the ball effectively. Thus, a nearly 20% walk rate and a catcher-esque batting average.
Trea Turner is probably going to be fine. Eventually, he's going to either learn to hit like Harper, waiting around for his pitch and not missing when it shows up. If he doesn't, he's going to keep walking at a high rate while holding a mid-200's batting average. There are good things ahead for him as well: The return of Murphy, Eaton, and Rendon should put him in a spot in the lineup where walking him is unsavory enough to get him more strikes. Also, note that Turner is a Florida boy: He is without a doubt suffering in this weather, as seen by his extensive use of the balaclava. I would be surprised if he doesn't improve significantly when the warm weather eventually shows.
Tags:
Nationals
,
Nats
,
Trea Turner
,
Washington Nationals