(Update: We regret to inform you that the video was a marketing stunt. Maybe next time, kids.)
Bryce Harper has very good hair. Our compliments to his mom, who is clearly responsible for the golden thread growing out of our unseated MVP's head. When his baseball career winds down in 237 years, and before he is inducted as the grand master of the Hall of Fame, he could probably have a long and fruitful career as a (hopefully not-creepy) Johnny Bravo impersonator.
The hair flips are plentiful and glorious, and we salute him for it. (Just check out MLB's GIF database. You can thank us later.)
It inspires copycats and the like, but there will only be one Bryce Harper mane, no matter how many changes it undergoes through the years.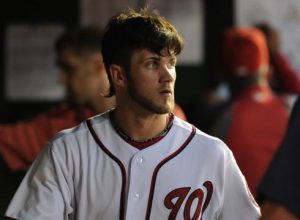 The question is, how does hair that seems more like a divine gold garden than an integral part of the integumentary system get to be so divine-gold-garden-like? Maybe he was born with it. Maybe it's two hair dryers. Maybe it's both. Bryan Harper, the eldest Harper and currently a member of the Nationals triple-A affiliate, gave us a deep dive into the process.
*Extremely Steve Irwin voice* Watch. A Bryce in his native environment. God, look at this beauty. Careful though, Bryces are easily scared, especially by sounds of their brothers laughing.
Hey @Bharper3407, one hair dryer wasn't enough? 😂 pic.twitter.com/l8hbpUWI7E

— Bryan Harper (@BryanHarper45) April 11, 2018
This is a "Dude!" that could only be reserved for a brother who is about to expose you on the internet. Bryce looks ready for a hairdresser's rendition of a Wild West showdown.
We thank you for you for your sacrifice, Bryan, and hope to see you up in the bigs, where you can continue these exploits, soon.
Tags:
bryan harper
,
Bryce Harper
,
Nationals
,
Nats
,
Washington Nationals