The Nationals' biggest splash in the offseason was their trade for the underrated Adam Eaton. If that is somehow news to you, first: glad you could join us out from under your rock, and second: The Nats Blog has you covered with a full breakdown of the the details of the trade itself. As Opening Day creeps closer and closer, though, the focus shifts from the specifics of the trade to how the Nationals new outfielder will perform on the field.
Despite his small size (he's just 5'8″), Eaton has been an incredibly consistent hitter over the last three seasons. His offense has been at least 15% better than league average in each of those seasons, judging by wRC+. He's always hit for average, with an above-average walk rate and a below-average strikeout rate to boot. Since 2014, he's even hitting for some power, belting double digit home runs in the two seasons since.
Despite that mini power renaissance, no one will mistake Eaton for an Adam Dunn-esque power hitter. He hits lots of line drives and a good amount of groundballs, with a fly ball rate under 30%, a batted ball profile more fitting for his stature. He's not afraid to go with a pitch, either. In fact, he hit more balls the other way last year (37% of batted balls, to be exact), than up the middle or to the pull side. Eaton is also an expert at putting the bat on the ball. He whiffs on less than 8% of his swings and makes contact on 90% of pitches in the zone that he offers at. If you are reading that and fearing the Nationals new center fielder is simply a slap hitter in the mold of Ben Revere, fear not! He hits the ball with authority. While the rest of the league averaged a soft hit rate in 2016 of 20%, Eaton registered softly batted balls only 17.5% of the time. While most hitters talk about being able to hit the ball hard to all fields, Eaton is one of the few who can actually back up that talk with the bat. At 28 years old, Eaton's offensive performance doesn't show any outward signs of slowing down.
There will certainly be some debate as to where in the Nationals' lineup Eaton will hit. Dusty Baker has discussed his desire to break up his left handed hitters (Eaton, Bryce Harper, and Daniel Murphy), which would seem to imply that Eaton would either lead off (with Trea Turner batting behind him) or somewhere in the middle of the lineup (with Turner as lead off). Dusty wants to split up his big left handed bats to make it tougher for opposing teams to play match up baseball with their bullpen arms. There is certainly some merit to that reasoning. Eaton, like all hitters, performs worse against same handed pitching. But Eaton's splits when facing left handers are not much different than his performance against righties. It's more important to be sure to get Eaton plenty of at bats than to try and engineer a perfect lineup.
The big question coming into 2017 for Eaton has nothing to do with his bat, though, and everything to do with his glove. The Nationals will ask Eaton to shift back to center field, a position he isn't unfamiliar with. In 2015, the White Sox asked Eaton to man center field and the results were disastrous. Eaton's range in centerfield left a lot to be desired. Recognizing this, the White Sox shifted him to right field for 2016 and all of a sudden he was one of the best defenders in baseball. While Eaton's poor range hampered him in 2015, as a right fielder in 2016, Eaton got to a ton of balls.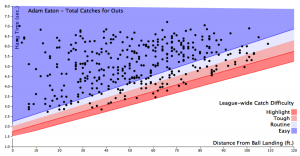 The graph, courtesy of Baseball Savant, shows all the balls Eaton caught in 2016 classified by catch difficulty. Judging by the number of balls in the "tough" and "highlight" buckets, Eaton was getting to a lot of hard to catch balls in 2016. Eaton claims he was limited as a center fielder in 2015 by a bum shoulder that kept him from being as aggressive as he would like to have been. The story seems to hold up. Once he got healthy in 2016, he was a much better defender with much improved range, at least in right field. The Nationals are certainly hoping that performance carries over into 2017, in center field.
There shouldn't be much concern over Eaton's performance with the bat in 2017. Expect him to put up a line like the one he put up in 2016, or 2015, or 2014. Assuming consistency is a fool's errand, especially when it comes to baseball, but if anyone can be expected to maintain their performance with the bat, it's Eaton. There are questions about whether he can stick in center field, but those concerns have likely been overblown. In the end, Eaton gives the Nationals a ton of flexibility. He can hit almost anywhere in the lineup and has proven he can handle all three outfield positions defensively. Eaton's skill set flies under the radar. He's not going to hit any towering home runs or steal a ton of bases. What he will do is be consistently good at everything he does, and that's exactly what the Nationals need.
Tags:
2017 player previews
,
Adam Eaton
,
Nationals
,
Nats
,
Washington Nationals