If Liam Neeson were a baseball player, he would be Jayson Werth. "What I do have are a very particular set of skills, skills I have acquired over a long career. Skills that make me a nightmare for people like you." Sure, that might be Neeson talking to the criminals who have just kidnapped his daughter in Taken. But read that again and tell me that's not what goes through Werth's mind as he steps into the batter's box? In Taken, Neeson's character is a former spy, though on the surface he appears too old to still be on the top of his game. Throughout the movie, Neeson proves that though he may not impressive all facets of the spy game, he is smart enough to know what he still excels at and uses that to his advantage. Again, tell me that's not Werth?
Jayson Werth enters the 2017 season as a 37 year old on the last year of his mammoth contract with the Nationals. It might be the swan song season for Werth, but that doesn't mean he can't still be a factor on the 2017 season. Like Liam Neeson in Taken, Werth can't do everything he used to be able to do on the baseball field. But he knows what he is good at and uses that to his advantage.
In the past, Werth has excelled at hitting for power while also posting high OBP. He hit 21 home runs in 2016 and posted a .335, proving he can still do both, right? Except the full year stats mask the detail of how Werth ended up with those numbers. While he used to be able to hit for power and get on base, nowadays he's limited to a specific set of skills that allows him to do one or the other.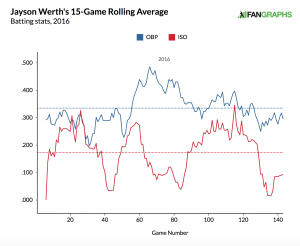 As the chart from FanGraphs shows, when Werth's OBP would rise, his ISO would fall. When Werth's ISO would rise, his OBP would fall. Werth can hit for power or he can get on base: He has to pick his spots. Luckily for the Nationals, Werth is one of the smartest baseball minds out there. He is a master at situational hitting and knows when to hit for power or work to get on base.
Werth's particular set of skills are especially potent against left handed hitters. Versus right handers in 2016, he managed an offensive line 20% below league average according to wRC+. Against left handers, though, he hit over .300 and posted a line 72% better than the rest of the league. When a left hander tried to sneak a fastball by Werth, his eyes must have lit up because he hit .400 against four seam fastballs from lefties with 4 home runs against that pitch alone. While the Nationals' bench isn't built to turn Werth into a full time platoon player, his skill set definitely fits the platoon profile.
Werth's struggles against right handed pitching drove down his overall offensive line in 2016 and will likely do the same in 2017. He's not totally ineffective against righties, but Werth certainly has some holes in his swing that have grown bigger with time. He's become a somewhat extreme low ball hitter, especially true in 2016: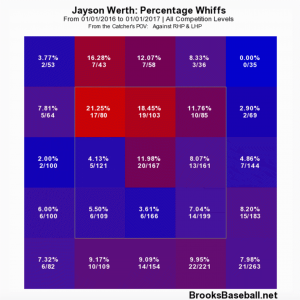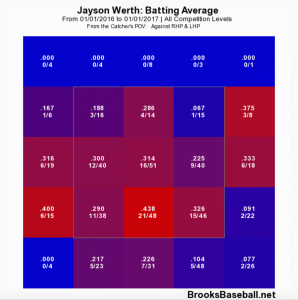 In that first graph, courtesy of Brooks Baseball, it's apparent that Werth struggles to catch up to pitches up in the strike zone, whiffing on balls up and in over 20% of the time. It's much harder to sneak balls in the lower half of the zone past Werth, though. In that second graph, the hot zones are immediately obvious. Werth punishes balls in the lower 2/3 of the zone but couldn't consistently get a good swing on pitches up in the zone. Don't think Jayson doesn't know this and hasn't tailored his approach to match his strengths. Werth is likely seeking out those low ball pitches, knowing that he does more damage when he connects down in the zone. It paid off in 2016, and his batted ball exit velocity actually increased by nearly 2 MPH over 2015.
Werth is obviously no spring chicken, and no one would expect him to be rivaling Trea Turner for the stolen base lead on the Nationals. On the base paths, though, Werth is far from a liability. In fact, he's actually one of the most valuable Nationals. No one needs to be reminded of Michael A. Taylor's adventures running the bases to know that speed doesn't always translate to good baserunning. While Werth's top-end speed is not what it used to be, his great baseball instincts and awareness means he excels at picking and choosing the right spots to be aggressive and snag an extra bag on a ball in the gap.
Where Werth doesn't excel is defensively. Take your pick of defensive stats and the results are shield-your-eyes bad. By UZR, he was the fourth-worst defensive left fielder in baseball in 2016. By DRS he was the third-worst left fielder. But like Neeson, Werth's skills aren't entirely diminished. The graph below, from Baseball Savant, is confusing at first but the take away becomes clear pretty quickly.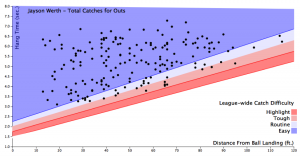 Werth gets to nearly everything that falls in the easy or routine category (blue and light blue). In fact, he only let 7 easy or routine balls fall in for hits in all of 2017. Werth made very few plays in the tough category and zero plays in the highlight category. What does that actually mean? If Werth can get to the ball, he's going to make a play on it. Where he struggles, is getting to balls hit to his left or right and especially balls hit in front of him. Werth makes up for his lack of top end speed these days by making quick reads on the ball. It means he's still got highlight reel potential in him.
Werth's role in 2017 is pretty clear cut. He will be the everyday starter in left field and likely hit somewhere in the middle of the order. With any everyday player his age, health will always be a concern as it will with Werth. As a result, expect to see him get some regular days off, especially against right handed pitchers. He's going to hit for power or get base, but he will have to sacrifice one to accomplish the other. If Werth does struggle, it will come when facing right handed pitching and on pitches up in the zone. Don't expect him to get to many hard hit balls in left field, but he will almost certainly make a play on the balls he can reach. And I'm sure his beard will be as beautiful as ever.
The criminals who kidnapped Neeson's daughter could certainly be considered critics, thinking he was a washed up old man. It didn't take long for them to realize their mistakes. On the surface, Werth may seem to have reached the end of his prime. But he still has a particular set of skills valuable on the field. And he's not afraid to remind his critics.
Tags:
Jayson Werth
,
Nationals
,
Nats
,
Washington Nationals