After a 4-2 loss to the Phillies Saturday, a group of Nationals and company witnessed an exhausting double OT Capitals loss in Game Two of their series against the Toronto Maple Leafs Saturday night. The boys were undeniable there, despite significantly less evidence of the outing than previous team adventures to Caps games and significantly fewer cowboy hats.
The #content that evidenced the presence of at least four Nationals were almost identical. Get ready for a wild ride.
In an unprecedented utilization of Instagram, Adam Eaton posted his ticket. Florals for Spring, groundbreaking.
Bryce Harper and wife Kayla both posted Insta Stories. Kayla documented the scrum that broke out in the second period, and Bryce was just pumped to be there. Not even a selfie to see if Bryce's Caps jersey ever recovered from the hanger induced shoulder pads. Boo.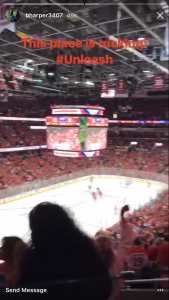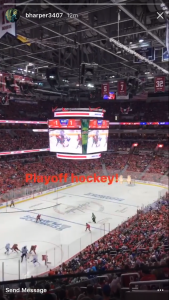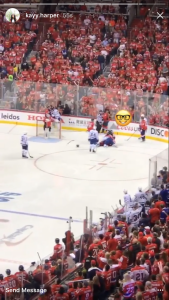 Brianna Norwood, whose boyfriend Michael A. Taylor was also likely along, videoed her seat in the same corner as the other Nats.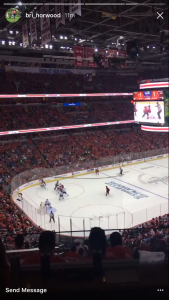 Trea Turner and girlfriend Kristen Harabedian both posted stories. Trea, a hockey playoff virgin, might've outshined his teammates with this tweet too.
First playoff hockey game… WOW! Need this OT win! #CapsBabyCaps

— Trea Turner (@treavturner) April 16, 2017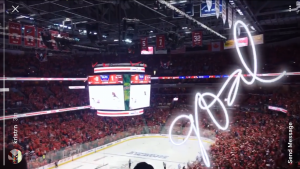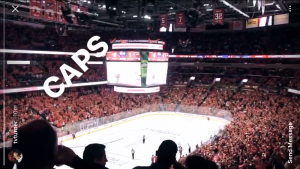 Not a great showing for DC sports or DC sports social media. Do better, guys.
Tags:
Adam Eaton
,
Bryce Harper
,
Capitals
,
Caps
,
Michael Taylor
,
Nationals
,
Nats
,
Trea Turner
,
Washington Capitals
,
Washington Nationals