Today is the day! The sun is shining, the birds are singing, the baseball players are no longer claiming to be in the best shapes of their lives. It's Opening Day part two, which is kind of like when Parks and Rec released after The Office. We're in the moments before starting a glass of lemonade, when you have the whole cup left to enjoy. There are 162 games to consume, and there are a few themes to follow that might enhance your appreciation of them.
Trea Turner has drawn the admiration of quite a few of his teammates, including Anthony Rendon, Bryce Harper, and even Bryce Harper's dog. If the trend keeps up, it could create some contention and soap opera worthy love shapes.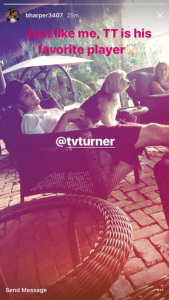 Not everyone has player crushes on Turner. Some have taken him under their wing instead. Jayson Werth posturing between Turner and cameras or giving pep talks to the new shortstop could just be a new favorite Nationals fixture worth tracking. Werth might be Harper's step brother, but he's for sure Turner's dad.
please add this to Trea and Jayson's family photo album pic.twitter.com/mf3VxhPCJU

— Mina (@maddc8) March 27, 2017
Jayson and his two large sons pic.twitter.com/pqSFnKNV9Q

— Mina (@maddc8) September 3, 2016
#BellLetsTalk pic.twitter.com/oWAydiYeP9

— JWerth's Beard (@JWerthsBeard) January 26, 2017
@treavturner pic.twitter.com/N8YWpwu3eL

— JWerth's Beard (@JWerthsBeard) March 29, 2017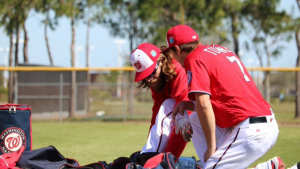 Werth is a noteworthy guest of Dan Kolko's famed postgame interviews. All Kolko interviews usually contain a gem or two, but the Werth/Kolko tandem is always a special treat, as Kolko draws more fun out of Werth than most reporters. Hold onto your hats, because Kolko might have Werth (or any of the Nationals) on his new podcast Between Innings.
The podcast, "Between Innings, with Dan Kolko," will be light, fun, informative (I hope), & recorded at the new Chad's in Friendship Heights

— Dan Kolko (@masnKolko) March 8, 2017
Will be recording the first "Between Innings" podcast episode on Tuesday at Chad's. Got any questions you'd like answered? Shoot em my way!

— Dan Kolko (@masnKolko) March 31, 2017

The Nationals, a baby-making team per Dusty Baker, have quite a few kids offering a captivating storyline. Chris Heisey's son, Caden, has already shown off his baseball skills down in West Palm Beach. He might be a strong option for a September call up. Adam Eaton's baby, who Eaton calls B-man, is a constant feature on Eaton's Instagram and Twitter and is worth turning on notifications. I would probably watch a reality show on the budding romance between Stephen Strasburg's daughter and Matt Wieters' son that Stras pointed out during a press conference at the end of March.

Tags:
Adam Eaton
,
Anthony Rendon
,
Bryce Harper
,
Jayson Werth
,
Matt Wieters
,
Nationals
,
Nats
,
Stephen Strasburg
,
Trea Turner
,
Washington Nationals