On paper, Wednesday's Nationals versus Dodgers tilt figured to be a game for the ages. Unlike other games that have looked impressive in theory only to fizzle out on the field, this one lived up to the hype.
The Nationals' co-ace Stephen Strasburg finally matched up 1v1 with the best pitcher on the planet, Clayton Kershaw. While Kershaw usually blows the competition out of the water, the separation between Kershaw and Strasburg this season has been hard to find. Kershaw had the lead in ERA (2.28 compares to Strasburg's 2.91) but Strasburg had him beat in FIP (2.64 for Strasburg and 2.96 for Kershaw) and both were striking out over a batter an inning. By Fangraph's WAR calculation, Strasburg and Kershaw had been almost identically valuable coming into the game. Everyone anticipated a pitchers' duel, and a pitchers' duel they got.
For several innings, Strasburg was practically unhittable. He mixed all his pitches well but was especially comfortable with his curveball, going to the yakker 26 times. He induced a lot of whiffs on the day too, with six coming off his best-in-class changeup and seven off of his fastball, which had some extra oomph to it in this game. Perhaps most impressively, he brushed off some defensive miscues (another Michael A. Taylor Dodger Stadium special most obviously) and held the Dodgers lineup in check.
Strasburg really made only one bad pitch the entire game, but he got punished for it. His first pitch to the Dodgers' phenom young shortstop Corey Seager was a meatball that got hammered over the fences: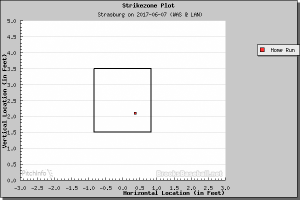 With no one on base, that solo shot didn't figure to be Strasburg's undoing. Instead, it was actually one of his eight strikeouts that lead to his downfall. Following that Seager homerun, Strasburg attached  Dodger first baseman Adrian Gonzalez. On a 3-2 count, Strasburg threw one of those filthy curveballs and fooled Gonzalez, getting him to swing over top the pitch. Unfortunately, the curve also fooled catcher Jose Lobaton and scooted past him to the backstop, allowing Gonzalez to reach base safely on a dropped third strike. Facing the next batter, Yasmani Grandal, a wild pitch by Strasburg that Lobaton couldn't get in front of allowed Gonzalez to move up to second base and scoring position. Grandal ended up going with a curveball to the opposite field and past a diving Ryan Raburn, plating Gonzalez and what would end up being the winning run. I still can't figure out how Grandal took this pitch and turned it into a double in the gap: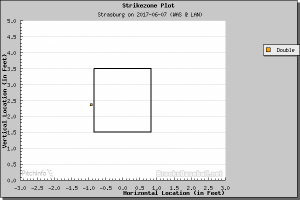 All those mistakes lead to an early end for Strasburg. After cruising for five innings, Strasburg got stuck in the sixth, throwing 35 pitches in the sixth inning and effectively ending his day.
Six innings pitched, eight strikeouts to only one walk and one earned run. On most days, an outing like that out of Strasburg would be good enough for a win. Strasburg doesn't face off against Clayton Kershaw on most days, though.
Kershaw was his usual otherworldly self against the Nationals. He mixed and matched his pitches, leaning on his slider and curve equally, with the slider being especially effective on the day. He never threw more than 20 pitches in an inning, ending his day with only 84 thrown in the game after a strange decision by Dodgers manager Dave Roberts to pull Kershaw after letting him hit for himself in the bottom of the seventh.
Though Kershaw gave up a solo home run to Ryan Zimmerman to start the second inning, it's not fair to say he made a bad pitch. If I was confused by Grandal's double, I'm still waiting for a physicist to explain how Zimmerman could have possibly hit this inside fastball out of the ball park: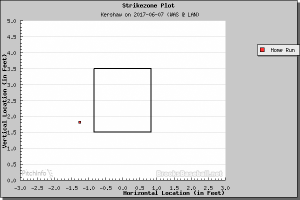 In the end, Kershaw finished his day with seven innings pitched, nine strikeouts to only three walks and one earned run allowed, continuing his steak of dominance over the Nationals.
Though Kershaw may have outdueled Strasburg on this day, the Nationals still won the series and proved that their impressive win-loss record isn't just the result of facing weak competition. They won a three game set against one of the best teams in the NL and wrapped up a 7-2 west coast road trip that has derailed teams of years past. Moral victories don't count in the record books, but this game felt like a statement moral victory for the Nationals and Strasburg in particular.
Tags:
Clayton Kershaw
,
Dodgers
,
Los Angeles Dodgers
,
Nationals
,
Nats
,
Stephen Strasburg
,
Washington Nationals