What do you do when the most consistent man on your team suddenly stops doing all the things that made him the most consistent man on your team?  Assuming the Nationals have tried the old "turning him off and back on" already, they might want to try something else.  Of course, the player in need of a full CTRL-ALT-DELETE is one Daniel Murphy.
Up to August 19th, Murphy had a slash line similar to that of 2016: .325/.381/.563 with 20 HRs and a shiny 139 wRC+ (meaning he was 39% better at the plate than the average MLB hitter) over 462 plate appearances.  In the 59 PAs since his day of rest, Murphy has slashed .260/.356/.380 with only one HR and has a considerably murkier 88 wRC+.
So what could have gone wrong with the guy I called super consistent?  You know, the predictable guy that does stuff the same way over and over? When you think of the new, improved, post-second half of 2015 Daniel Murphy, what are the two things you think of first?  No, not salt free sunflower seeds and bizarre facial gestures, rather it's hitting the ball in the air and not striking out.  Murphy has elite contact skills and prides himself on hitting the ball in the air to do damage.(See that .563 slugging rate before 08/19/17?  Yeah, that stuff.) This is the new-look Murphy that makes him one of the best hitters in baseball.  The problem?  He stopped doing that really good stuff.
Check out Murphy's wRC+ overlaid with his strikeout rate: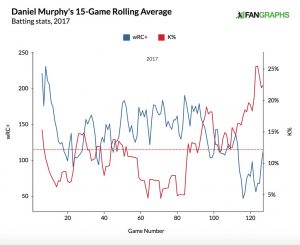 See that point near the end where his K% starts to skyrocket as his wRC+ drops precipitously? You guessed it: August 20, 2017.  Before that point, Murphy had an 11% K rate. After that point, it doubled to 22%.
The reason behind his spike in strike outs seems pretty clear:  Murphy is swinging at bad pitches.  He's also missing them. Before his day off, Murphy was swinging at pitches outside of the strike zone 30.6% of the time, and after his break, he swung at them 40% of the time.  Before his break, he was making contact 89.1% of the time.  After? 79.8%.
Now we get to where the ball goes when he does make contact.  Murphy believes that his changed launch angle profile altered his career. Before his break, he had a 33.6% ground ball rate, and after, he had a 39.5% rate.  That might not seem like a ton. Let me instead provide you a visual 15-game rolling representation of what he's done in relation to hitting ground balls: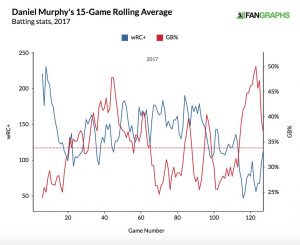 Guess the date where the red GB% rate goes through the roof and the blue wRC+ rate starts to fall?  Right, you know by now.  Right around August 20th.  The crazy thing is, he actually had a fairly consistent batting average on balls in play during this time and it's only fallen .008 since the day that shall no longer be named.  What has been wrecked by this change in batted ball profile is the type of damage he's doing on those batted balls.  His isolated power rate before the evil day was a robust .238.  Since the awful 24 hour period? .120.
Hopefully this is not a sign of a late year injury that will sap Murphy's performance going into the postseason.  With Bryce Harper not a sure thing for October, the Nationals really need Murphy to play at his potential, and to do that, he's going to need to remember which version of Daniel Murphy got him here and start playing like him again.
Tags:
Daniel Murphy
,
Nationals
,
Nats
,
Washington Nationals