Over the bases and through the steps, to the clubhouse Zimmy goes.
The Ryan Zimmerman Renaissance is the gift that keeps on giving. Homers, extra-base hits, infield singles, a renewed spring in his step–all characteristic of this great age in Zimstory. Zimmerman scoring from first on a Howie Kendrick double is another unique byproduct. The beeline he made for the clubhouse after touching home might be even better, though.
when the chipotle hits pic.twitter.com/Aw52D5uoXR

— Danny (@recordsANDradio) September 7, 2017
He went from first to second to third to home to high-fives to steps and all the way into the clubhouse without stopping. Was he just too lightning fast to come to a stop without consequences? An object in motion will stay in motion unless acted upon by an external force, and no external force is great enough to stop Zim right now. Just don't tell his plantar fasciitis we said that.
There are so many references to make. Some Forrest Gump? @Nationals have got you.
Now it used to be I ran to get where I was going…

… I never thought it would take me anywhere. pic.twitter.com/i7p7YkS1qz

— Washington Nationals (@Nationals) September 6, 2017
An homage to your childhood competitiveness? Here's MASN Nationals.
Last one in's a rotten egg! 😂 pic.twitter.com/CMbO0gy7k5

— Nationals on MASN (@masnNationals) September 6, 2017
Maybe all that's missing is converting Dory's catchphrase into "just keep running" and probably some other, more sophisticated, references we haven't thought of.
An at-bat later, Zimmy got his first *ever* 3-0 hit on an upper-deck bomb to right field. It was the first *ever* hit by a right-handed batter not named Marcel Ozuna, according to the Marlins broadcast. He now has 31 home runs, two shy of his career high set in… 2009. The man knows how to keep this marriage interesting.
Someone should just make sure Wilmer Difo knows Zimmy is okay.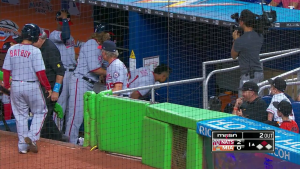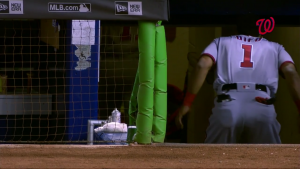 Tags:
Nationals
,
Nats
,
Ryan Zimmerman
,
Washington Nationals