Oliver Perez: number 46 on the roster, number three or four-ish in our hearts when the situation calls for a lefty specialist, and number one in foul line jumpers. Saturday, the relief pitcher became the number one enemy of rain. As the grounds crew struggled to pull the tarp over the field at Sun Trust Park, Perez, like a baseball James Bond, stepped in.

thanks to @nationals lanzador de relevo Oliver Perez for helping the @SunTrustPark crew get the tarp controlled at the @braves game today😝 pic.twitter.com/oaM0XQTnuJ

— dandy lee strickland (@strickdand) May 20, 2017

You can even see the moment Ollie see duty call as he sprints in to help. He may be small in this shot, but his determination is mighty.
​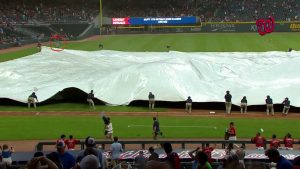 Perez is a superhero in his own right, but his good deeds didn't go unnoticed. Gio Gonzalez, as ever, was waiting at the top of the dugout steps with a high five, just as Dusty Baker intended them to be used.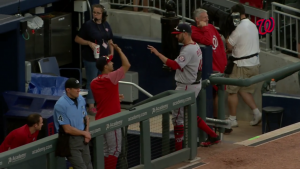 ​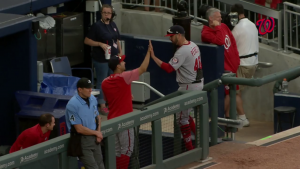 Perez just earned the whole bullpen a little bit of leeway the next time they decide to give up three runs to the Braves in an inning.
Tags:
Nationals
,
Nats
,
Oliver Perez
,
Washington Nationals