Aaron Judge fought his way to the Home Run Derby title and further into our hearts like Rambo with a baseball bat for a machete or like a Great Dane puppy. I still haven't decided which yet. Gary Sanchez, Cody Bellinger, Miguel Sano — all the contestants contributed to the night-long monsoon of dingers. God bless the long ball, each and every one. That includes the ones from Justin Bour, who put up 22 home runs only to be beaten by Judge's 23. But what's really important about the derby, out of all the bombs and player celebrations, is love.
Monday's contest Bour just enough evidence to declare a Bryce Harper/Justin Bour Potential Bromance Alert. Code yellow. The possibility was unquestionable after Bour hit his 22nd home run in front of his team's fans in Miami. I am no love doctor, but truly, what else could the most enthusiastic celebratory belly thumping a baseball field has ever seen mean?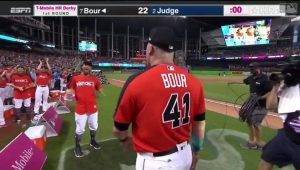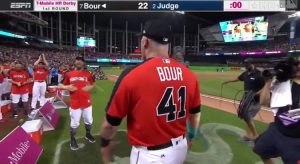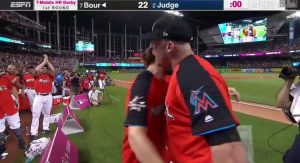 Okay, fine. That alone might just be circumstantial, even if Harper was the only player to break away from the viewing gallery to celebrate with the most recent Masher of Baseballs. HOWEVER, I would like to submit to the (Aaron) Judge (sorry) EXHIBIT B: Kayla Harper's Instagram Story.
— Edgar Allan Difo (@AndrewFlaxTNB) July 11, 2017
This is the post of a wife who has spent countless hours of precious few off-days being regaled with tales of Bour's brilliance. It did not take an untrained eye to appreciate Bour's baseball lazer show, but Kayla appreciated it enough to use the 'lit' sticker, traditionally only reserved for the most sacred occasions.
If nothing else, Bour's nativity to the suburbs of DC allows him to easily introduce Harper to the parents whenever he visits next (ahem, August 7). If nothing else, there will be donuts. And what else is love but donuts?
Tags:
Bryce Harper
,
Home Run Derby
,
Justin Bour
,
Nationals
,
Nats
,
Washington Nationals