Friday night, DC held a second election and John Wall emphatically earned the presidency, at least according to most tweets from 11 to 12 that night. Despite putting up a mere three points in the first half, Wall never wavered and sunk the three-point shot that would secure a Washington Wizards victory and a Game 7 with only seconds left in the 4th quarter.
The king of DC! pic.twitter.com/yeuFEUeslz

— Barno (@DCBarno) May 13, 2017
.@JohnWall doing it for the #DCFamily! pic.twitter.com/bIyI20B1CV

— Washington Wizards (@WashWizards) May 13, 2017
(You can also watch a million fan videos here. Bless Dan Steinberg.)
It's the kind of thing you'd want the players on your favorite team to see. Thanks to a Friday night rain out, some of the Nationals did.
Anthony Rendon and Gio Gonzalez, along with their new adopted child from AAA Brian Goodwin, attended the clinic on staying steady put on by the perfect cold-blooded role model.
Here they are in a photo provided by Alex Flum, a sports intern with NBC Washington. Please note that Goodwin did not part ways with his can of Bud Light for the photo, like a true hero.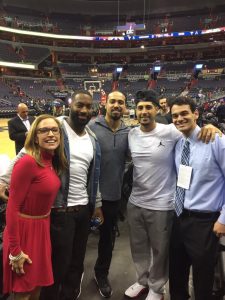 Mike Rizzo was there, too. Probably trying to find out if Wall is open to being the Nats new closer. Or maybe he was chaperoning the boys. Whatever the reason, those are definitely the two most likely.
Joined by yet another prominent head, @Nationals GM Mike Rizzo. pic.twitter.com/8YKwTRkb0O

— Steve Buckhantz (@SteveBuckhantz) May 13, 2017
If you don't follow Brian on Instagram, I highly recommend running to add him now before his stories disappear. I promise they will add 10 years to your life. Trust me, I am a doctor. These are some of the important moments as captured by screenshot.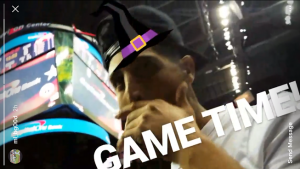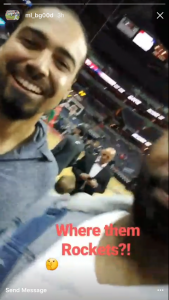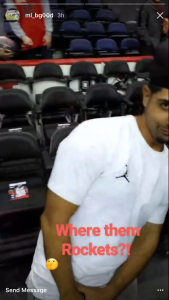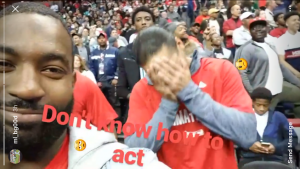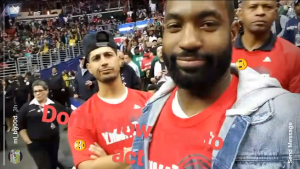 Brian, because he cares about us, even documented his and his teammates' reactions to Wall's dagger. Nationals: they're just like us.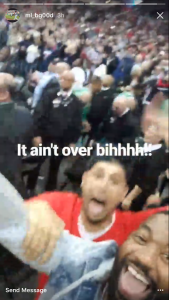 ​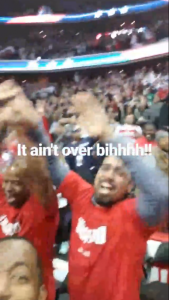 Our little Gio, who Flum described as "the nicest athlete I've ever met," and ever the believer, never doubted for a second.
Gio Gonzalez first words to me after #Wizards win…  "I told u so." With teammates Anthony Rendon and Brian Goodwin..  #DCFamily pic.twitter.com/SvtS0P1qrJ

— Carol Maloney (@carolmaloney4) May 13, 2017
Wall is the older brother you hope rubs off on the Nats. Not to be the parent that asks "Why can't you be more like Johnny?" But, be more like Johnny.
Not every National was in attendance, but many were able to watch and have Wall and the Wizards impress upon them a lesson they've probably learned 300 times, yet almost never in the context of DC sports. And they were all in agreement about what exactly Wall's biology is.
Ice in his veins.. @JohnWall #WetWet

— Trea Turner (@treavturner) May 13, 2017
ICE IN HIS VEINS #JohnWall

— Joe Ross (@JoeRoss21) May 13, 2017
A thrilled Bryce Harper even took time out of his date night to send a tweet.
JWall you are an absolute stud! Talk about Clutch..Wow! On to the next #DCfamily "I ain't going home" –@JohnWall

— Bryce Harper (@Bharper3407) May 13, 2017
Also, Gio has now taken these streamers in as his own and is probably never going to let them go as long as he lives. It's now clear that the pitcher is the mom friend, who has to clean up when anything is out of place.
Gio Gonzalez collecting streamers pic.twitter.com/3gHiMomUoT

— Brody Logan (@BrodyLogan) May 13, 2017
The baseball boys on the court after the big basketball win. cc: @aNatsFan @vandygirl1998 pic.twitter.com/YPAPxNlUiN

— Lisa (@In2Nats) May 13, 2017
With the new hope that Wall has handed DC fans, there's a little less room for the lingering Caps despair, and a little more room for this electric display of Wall on the scoring table after the final buzzer screaming, "This is our home! This is my city!":
It's John Wall's city!

(via @WashWizards) pic.twitter.com/ablOAShfdt

— SLAM Magazine (@SLAMonline) May 13, 2017
John Wall is a beast. #DCfamily pic.twitter.com/ygRNffhT7X

— Navy Yard Nats (@NavyYardNats) May 13, 2017
And a little more room for this clip of Brad Beal reacting to the news of Wall's shenanigans, like the true #relatable #teammategoals they are.
Watch Bradley Beal's disbelief when learning John Wall jumped on the scorers table after the final buzzer. pic.twitter.com/monuR6Ef7x

— Hoop District (@HoopDistrictDC) May 13, 2017

AND for this shot of Markief Morris slapping the butt of Stephen A. Smith on his way to the locker room. You KNOW I am sensitive to personal space, BUT, this is the content and things of that nature that I live for.
When you force a Game 7, you slap @stephenasmith on the ass. pic.twitter.com/kbDYlUhF3k

— Amy Rubin (@arubin820) May 13, 2017
Until Game 7, tag yourself. I'm the guy in the third picture.
John Wall did this: pic.twitter.com/0cKN5HBhTP

— SB Nation (@SBNation) May 13, 2017
Tags:
Anthony Rendon
,
Brian Goodwin
,
Gio Gonzalez
,
John Wall
,
Nationals
,
Nats
,
Washington Nationals
,
Washington Wizards
,
Wizards